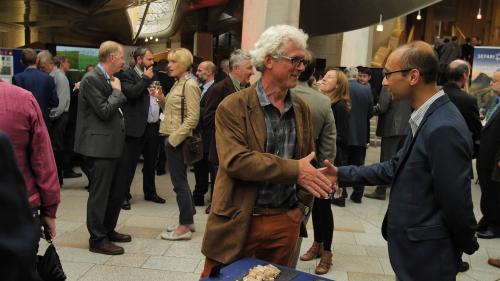 Engaging with a group of people can be a daunting task. However, it is an invaluable activity which provides an interesting and exciting avenue to share our work, learn from others and even develop a new skillset.
This blog offers practical advice on how to improve knowledge exchange and highlights opportunities that SEFARI Gateway have on offer to gain experience and build confidence when engaging with different audiences. These opportunities include learning from a range of professionals at a free to attend knowledge exchange training and development event – the 'Leading Ideas Hub' in September, and how to apply for funds to create your own activity via our Innovative Knowledge Exchange Fund.
Getting started:
Well, where do you start when considering how to engage with your audience? Especially when you may have multiple audiences (e.g., researchers and policy makers) who each have different interests, values and needs. Recognising these issues is the first key step, as being mindful of your audience is undoubtedly one of the factors that will influence the success of a project. A good tip is to get to know your audience; find out what they're interested in, what they'd like to know, what is it for them etc. and then consider how that fits with what you want to tell them and what you may have to explain?
Thinking through all your audience's needs isn't always easy but Gateway understands this, is here to help, and has mechanisms available that are designed to offer support. Two such mechanisms available at this time are the opportunity to attend a free training and development event which is open to everyone, the 'Leading Ideas Hub' and/or, you could consider teaming up with a Strategic Research Portfolio member and apply to our Innovative Knowledge Exchange Fund for financial, and more bespoke, support.
Leading Ideas Hub
The free to attend, two-day event will bring together a range knowledge exchange professionals to dissect methods, best practice, innovation and impact, as set against emerging priorities.
The five themes of: engagement, skills, collaboration, innovation and impact will cover a myriad of topics, audiences and examples. Sessions will be led by a diverse cross section of speakers who will share their wealth of experience and offer real practical advice. In addition, this training and development event aims to offer something for both those new to the knowledge exchange field and those who have more experience.
The event will be held at the Caledonian Hall, Royal Botanic Garden Edinburgh (RBGE) on the 5th and 6th of September 2022.
The event outline is:
DAY 1 – 5th September – Caledonian Hall, RBGE
12:00-13:00 Attendee Arrival
13:00-13:15 Opening Address – Day 1
13:15-14:00 Introduction to Knowledge Exchange - discussing the importance and value of good KE and will highlight opportunities to support researchers in gaining experience and building confidence
14:00-15:00 Examples of Innovative Knowledge Exchange – sharing of lessons learnt
15:00- 15:15 Break
15:15-16:00 Stakeholder Perspective - what constitutes good knowledge exchange?
16:00-17:15 Panel Discussion - what works for knowledge exchange, what doesn't?
17:15-18:00 Networking Opportunity
DAY 2 – 6th September – Caledonian Hall, RBGE
9:00-9:30 Attendee Arrival
9:30-9:45 Opening Address – Day 2
9:45-11:00 Collaboration and Partnership Working – recognising and developing opportunities for partnership working with different audiences
11:00- 11:30 Break
11:30-12:15 Working with Policy – tips and advice
12:15-13:15 Innovation Uptake - how best to work with business
13:15- 14:15 Lunch & Networking Opportunity
14:15-15:15 Design for Impact – what is impact and how can impact strategies be developed for practice?
15:15-16:30 Panel Discussion on Horizon Scanning – what are the emerging priorities?
16:30-16:45 Closing Address
More information and tickets to attend each day in person can be obtained at:
Leading Ideas Hub - A Knowledge Exchange Training & Development Event Tickets, Edinburgh | Eventbrite.
Tickets are available on a first come first served basis. We look forward to seeing you there!
The Innovative Knowledge Exchange (IKE) Fund:
The IKE Fund was formerly known as our Responsive Opportunity Fund. The name may have recently changed; however, the remit remains the same. The Fund will support collaborative knowledge exchange projects which enhance impact and add value. Proposals should be inter-disciplinary, must be cross-institutional, timely, actively engage stakeholders, show creativity and provide a clear vision of how they will deliver impact. In return, successful applicants can expect Gateway's support, expertise, training (if needed), and an award that can help with activities, events and/or the preparation of materials as well as the funding of Scottish Government funded Strategic Research Portfolio staff time and expenses.
In the last 5 years, Gateway has funded more than 40 interdisciplinary projects aimed at a wide diversity of audiences to maximize the visibility and impact of Strategic Research taking place across Scotland. The variety of projects the Fund supports is very important as interdisciplinary collaboration with a wide range of audiences such as, researchers, stakeholders, farmers, and the public can help to find more effective solutions, whilst also showcasing the relevance of research to daily life.
A few examples of the types of projects that the IKE Fund (formerly ROF) has supported are:
This project was one of the Fund's first ever projects! It was a beautiful and visually engaging project aimed at the public. It involved a very successful collaboration between the arts and science by showcasing not only the beauty and complexity of plants but also the critical roles of roots, in the form of an art exhibition.
The first exhibition was held in the Dalhousie Building, University of Dundee (in March 2017) and exhibitions followed at venues such as the Scottish Parliament (during SEFARI's first parliamentary showcase event) and at a Fascination of Plants event in the same year. This diversity in locations really helped to increase the number of people the exhibit reached and really enabled the public to interact with science in an accessible and less daunting environment. Read more about the project here.
This project sought to engage policy makers, stakeholders and the public with a series of interviews showcasing the work of the Centres of Expertise (CoEs). Scotland has five CoEs: Centre of Expertise for Waters (CREW), ClimateXChange (CXC), Plant Health Centre (PHC), Epidemiology, Population health and Infectious disease Control (EPIC), and the Centre of Expertise for Knowledge Exchange and Innovation (SEFARI Gateway).