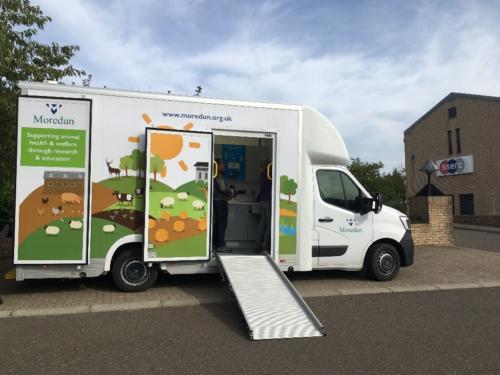 In September, colleagues from the Moredun Research Institute, SEFARI Gateway, the Food and Drink Federation Scotland (FDF Scotland), Royal Highland Educational Trust (RHET) and Quality Meat Scotland (QMS) outlined a wealth of educational resources that cover the sustainability of key resources such as food, water, and energy. A key priority for the younger generation especially with COP26 on the horizon, and on our doorstep!
By joining forces at a continuing professional development (CPD) event, organised by the Scottish Schools Education Resources Centre (SSERC), our session was designed to support teachers with the delivery of National 4, 5 and Higher Environmental Science. The session ended by moving outside of the classroom to see the new mobile laboratory and education bus, created as part of Moredun's centenary, which is being used to visit schools and engage children with different science topics. Seeing the bus gave us the opportunity to extend discussions in a more relaxed environment out in the autumn sunshine.
After an introduction by Annie McRobbie (SSERC) the event began with Lee Innes (Moredun Research Institute) outlining resources covering a range of different topics relating to infectious diseases, immunology, diagnostics, vaccination, parasitology, biodiversity, climate change, food security and food safety. Moredun have developed several different educational resources and activities for secondary (and primary) school children working in collaboration with teachers and colleagues at SSERC. As well as helping with CPD events for teachers, Moredun have also taken part in hands on activities in schools and science festivals.
Examples of Moredun's resources are:
Disease Detectives - Discover how the cause of an illness can be identified and why catching the culprit is so important in order to provide effective treatment.
War of the Worms - Using livestock as an example this topic highlights the trouble with gut parasites and the work that is being done to minimise their effect on animal health and welfare.
A Tale of two Squirrels - Find out what can be done to help save our red squirrels.
Bugs vs Drugs – Looking at how bugs develop resistance to drugs and how we can preserve the efficacy of our medicines and work to prevent diseases
The Beast within us - Using toxoplasma parasites as an example this topic introduces these sneaky characters who have a clever way of ensuring their survival.
Full details of the resources, and a series of short-animated films, covering a range of topics can be found here.
Lee also highlighted that SEFARI Scientists including those from the Moredun Research Institute, the Rowett Institute, the James Hutton Institute and Scotland's Rural College (SRUC) (who work on areas of microbiology that include: gut health, foodborne bacteria and protozoa, antibiotic resistance, microbial communities, mycotoxins, soil, livestock and crop health and the environment) have also created an educational resource examining the world of microbes.
Next, Moira Stalker (FDF Scotland), Sara Smith (RHET) and Alix Ritchie (QMS) asked - do you have an interest in education around food production & sustainability? If so, then you might be interested in Good Food Champions.
The Good Food Champions initiative is a collaborative partnership of organisations working together to upskill practitioners in food, STEM (Science, Technology, Engineering and Mathematics) and sustainability. The collaborative aims to provide teachers with factual information, stimulate reflection, develop understanding of food systems, and crucially understand how they can become more sustainable.
Working together, the Food and Drink Federation Scotland (FDF Scotland), Quality Meat Scotland (QMS) and Royal Highland Education Trust (RHET) are supported by a number of universities, research and skills organisations. By working in partnership, the group are uniquely placed to deliver learning opportunities which benefit teachers, and ultimately the young people they engage with. We have expertise in areas from nutrition and food technology to environment and employability and support comes from Abertay University, Developing the Young Workforce (DYW), Glasgow Caledonian University, James Hutton Institute, Lantra, Moredun Research Institute, Queen Margaret University, SEFARI Gateway, Skills Development Scotland, Scotland's Rural College (SRUC), and Zero Waste Scotland.
The Good Food Champions partnership provide:
an online learning portal which secondary teachers can register for here and
deliver training (currently online) for secondary practitioners.
The following online session is now open for booking:
Educate FOOD Wednesday 1st December 4 - 5pm
Join us to find out what is on offer to help teach food sustainability, food production, land use, ecosystem services, food science and food careers and share your thoughts around what you would like to see developed moving forward.
Online booking can be found here.
The practical part of Good Food Champions is an online learning zone for secondary practitioners, consisting of various learning modules and teach it zones. Upskilling practitioners in food, STEM, and sustainability, provides support to deliver enhanced good food learning across Scotland. Access to the learning zone is available here.
Finally, Michelle Wilson Chalmers (SEFARI Gateway) discussed the resources that SEFARI have created, starting with the more general resources on SEFARI's website that could serve as educational resources and provide access to experts across a range of environmental topics of interest, via case studies, blogs and a directory of expertise.
Michelle then outlined a table, produced by the newly formed education group at SEFARI, who have collated free-to-access, online educational resources for teachers (and home-schooling parents in the COVID-19 lockdowns), covering topics such as Food and Health; Climate and Biodiversity; Land and Communities; Agriculture and Forestry & Careers. As part of the educational group's remit they created an education booklet which details resource exemplars, as well as a selection of in-person activities and training programmes.
An outline of educational resources provided by the Rowett Institute, focussing on nutrition, health, food, and food sustainability, which are again, online (easily downloadable), curriculum-linked and free, was then discussed.
Examples of the Rowett Institute's resources include: