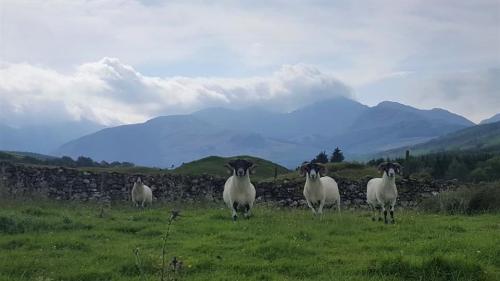 With the pandemic turning our lives upside down, the use of digital communication has accelerated overnight. Webinars, Teams meetings, Digital classrooms, Virtual brainstorming boards, to name but a few. They have all helped in keeping us connected from the safety of our own homes. However, these virtual technologies achieve so much more than simply enabling conversations to continue. They have removed barriers - social, physical, economic, geographical - and in removing these barriers they have made research more accessible.
In this blog, Dr Lorna Cole, discusses the recent creation of a series of virtual tours at five of our leading SEFARI research farms, in a SEFARI Gateway Responsive Opportunity funded project. The tours are readily accessible through the Google Earth platform, giving everyone access to the countryside and allowing us to learn more about the research that is being conducted on SEFARI's research farms.
Across the globe the COVID-19 pandemic has changed how people work, communicate, socialise and learn. As an active person who is always out and about doing things, I personally have found this a great challenge. I am missing the simple things in life that I have always taken for granted. Popping into my mum's for a tea and a chat, meeting friends for coffee (or wine!), or finding a new hill to climb. During the week I am now confined to a little desk in the corner of my kitchen, it is a nice kitchen, but that desk is become tiresome. I, and I'm sure like many of you, can't wait to get back out when we can. For me that will involve returning to the workplace, to my colleagues and my students, and to undertaking field work on farms.
However, during this challenging period, virtual technology has undoubtedly helped researchers from across the SEFARI institutes to share their research findings with wider audiences. Researchers have created webinars, virtual reality tours, videos etc. and even created online education resources to help with home schooling. This kind of innovation has been invaluable, helping events like Arable Scotland to continue, albeit in a virtual environment.
Therefore, and as part of LEAF (Link­ing Envi­ron­ment And Farm­ing) Open Farm Sunday on 28th of March, we are now also launching five new virtual SEFARI farm tours covering widely diverse farming systems across Scotland. The LEAF Open Farm Sunday initiative enables farmers to open their doors, to young and old, so that everyone can see and experience the reality of farming life for themselves. Enabling people to visit the SEFARI research farms allows us to illustrate how our research can help with the major challenges facing society; from climate change and biodiversity declines, to animal welfare and precision farming – and all from the safety of a sofa!
On the tour of Glensaugh Farm, situated in the uplands of Aberdeenshire, you can visit the home of the James Hutton Institute's Climate-Positive Farming Initiative. Here visitors can listen to researchers discuss their research on grazing management of upland systems, woodland expansion and renewable energies.
,
At SRUC's Kirkton and Auchtertyre Farms, in the Loch Lomond and The Trossachs National Park, visitors can hear about the challenges faced by upland hill farmers. The tour enables listeners to learn about the diversity of research being undertaken by the Hill and Mountain Research Centre to help farmers meet these challenges.
While at Balruddery Research Farm, you can visit the James Hutton Institute's Centre for Sustainable Cropping. Researchers at this arable farm on the outskirts of Dundee explore how agro-ecological principles can be incorporated into arable systems to benefit both production and the environment.