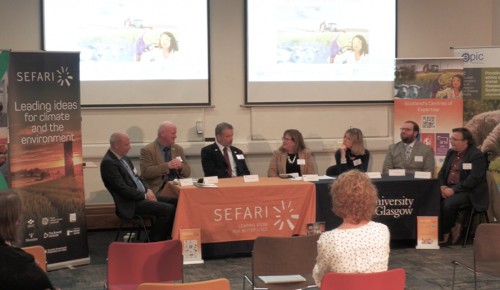 The climate emergency affects every part of our lives and collaboration within and across sectors is therefore key to addressing this crisis. With collaboration at their core, Scotland's five Centres of Expertise (CoE) work together to connect research with, and respond to, policy needs across issues which affect the climate, water, animal and plant health, land and communities.
In this blog, you can learn more about the work of the CoEs - namely Centre of Expertise for Waters (CREW), ClimateXChange (CXC), Epidemiology, Population health and Infectious disease Control (EPIC), Plant Health Centre (PHC) and SEFARI Gateway - and how during COP26 they came together to host a series of events at the University of Glasgow to showcase how they are helping to protect people and the environment from the effects of climate change.
The five CoEs are funded by the Rural and Environment Science and Analytical Services Division (RESAS) and are part of the wider Scottish Government funded research portfolio, which is one of the largest for agri-environment research in the UK. The portfolio represents a globally distinct investment in, and capability for, multidisciplinary and interdisciplinary research, and the CoEs operate at the interface between policy and research and provide responsive work in areas of high policy importance.
At three events on 9th of November at the University of Glasgow, the Centres and RESAS came together to offer an insight into their work, how it has an impact in the climate emergency and to offer practical advice to early career researchers wishing to improve the usability and impact of their research.
Session 1
Knowledge Exchange and Impact – A Workshop for Students and Early Career Researchers
Speakers: Michelle Wilson Chalmers (SEFARI Gateway) & Anne Marte Bergseng (ClimateXChange)
10.00-11.00
The first event of the day was aimed at those starting out in research. The session provided practical tips and advice on how to interact and effectively communicate science, evidence and expertise with an audience – a topic on which Michelle and Anne Marte regularly train researchers and students. However, this was their first opportunity to join forces. In the workshop, Michelle and Anne Marte focussed on how to engage and work with a policy audience and how such partnership is critical to the Centres' success. In particular, they highlighted techniques that can be used to aid effective written (e.g., policy briefs) and face-to-face (e.g., elevator pitch) communication. The session also explored "impact" - what impact really means and the different forms it can take, relevant to all those embarking on an academic career.
The session 1 video is available here.
Session 2
Knowledge Exchange: Lessons from High Impact Research – the Scottish Centres of Expertise Model
Chair: Lorna Dawson
Panelists: Bob Ferrier (CREW), Charles Bestwick (SEFARI Gateway), David Reay (CXC), Dominic Mellor (EPIC), Fiona Burnett (PHC) and Graeme Beale (RESAS).
12.00-13.30
The second session began with the launch of a video, created by Circa Media (and funded through SEFARI Gateway's Responsive Opportunity Programme), which outlines what each of the Centres does; why collaboration is so important; and how they are addressing key global challenges such as climate change. Find out more about the development of the video and associated booklet in our previous blog. After the video launch the session then progressed into a panel discussion which included representatives from all the Centres and RESAS. This provided a unique cross-topic operational (CoEs) and user (RESAS) perspective on how research can most effectively meet policy needs. The panellists highlighted how their different, but aligned approaches, have supported policy and involved collaboration with a variety of stakeholders.
For example…
The Centre of Expertise for Waters (CREW), a partnership between the James Hutton Institute and Scottish Higher Education and Research Institutes, is a Centre that draws knowledge from the research community to inform water policies in Scotland, helping to ensure the efficient and wise use of water resources. CREW brings together stakeholders to achieve a collective understanding of the challenges climate change could bring to the water sector, works to find solutions and supports Scotland's 'Hydro Nation' ambition.
Examples of CREW's projects include:
You can find more examples of CREW's work here.
ClimateXChange (CXC) provides independent advice, research and analysis to support the Scottish Government as it develops and implements policies on adapting to the changing climate and work towards achieving its net-zero goal. CXC plays a crucial role in providing evidence across reducing emissions from construction, land use, heating and the transport systems. The Centre takes a systems approach by working with the Scottish Government and agencies to identify evidence needs and opportunities, plan research and analysis, and provide 'the right information at the right time in the right manner'.
Examples of CXC's projects include:
You can find more examples of ClimateXChange's work here.
The Plant Health Centre (PHC), headed by the James Hutton Institute, brings together the different plant sectors (forestry, horticulture, natural environment and agriculture) to co-ordinate plant health knowledge across Scotland. The PHC does this by connecting the science to its application and by collaborating with a range of stakeholders (Scottish Government, industry and public bodies) in order to better understand and tackle the pests and pathogens that threaten our environment.
Examples of PHC's projects include:
You can find more examples of the Plant Health Centre's work here.
Epidemiology, Population health and Infectious disease Control (EPIC) is a consortium involving six Scottish research institutions that aims to protect animal health by advising policy teams about animal disease outbreaks. Along with carrying out long term research, EPIC is also a rapid response unit which provides support in the event of emergencies. Again, collaboration is key as animal disease outbreaks have a direct link with food production and the economy. This makes it vital to work with Scottish Government veterinarians, scientists and policy officials, industry stakeholders and the public to provide optimized solutions and improve the resilience of Scottish livestock industries.
Examples of EPIC's projects include:
You can find more examples of EPIC's work here.
The Knowledge Exchange and Innovation Hub (SEFARI Gateway) increases the visibility of, and access to, research and expertise across the Portfolio. By facilitating research and innovation flow to and from the Portfolio, it increases the understanding of stakeholder needs, informs policy development and strengthens the Portfolio's knowledge networks which expand beyond Scotland and the UK. The Centre also provides support to Portfolio staff, for example via Fellowship opportunities which facilitate bespoke and direct knowledge exchange between researchers and stakeholders.
Examples of SEFARI Gateway's projects include:
You can find more examples of SEFARI Gateway's work here.
The Scottish Centres of Expertise model discussed during the panel debate (Session 2) really highlighted the interconnectedness and complexity of the major issues we are facing. It was very evident climate change has an impact upon all of the Centres' work and that we need to continue, and even expand upon, our trans-sectoral collaborations in order to find sustainable policy options.
The session 2 video is available here.
Session 3
Vectors and their impact on plant, animal, and human disease
Dominic Mellor (EPIC), Ian Toth (Plant Health Centre) & Adam Kleczkowski (University of Strathclyde)
15:00-16:00