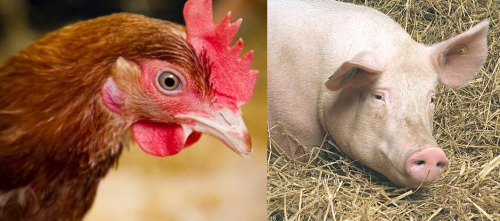 Stage
Work Completed
Directory of Expertise
Purpose
The event brought together leading SEFARI scientists and representatives from industry, the government, the veterinary profession and academia. The occasion provided an excellent networking opportunity for the participants to learn more about the needs of the industry, exchange ideas and information and develop new collaborations.
The pig and poultry industries have an ongoing requirement for new developments in animal health, nutrition and welfare to increase productivity and meet global food security targets (e.g. pigs and poultry).
SEFARI institutes are involved in the development of new and improved vaccines and diagnostic tests, nutritional strategies and welfare solutions for swine and poultry. Examples of our research include: animal behaviour and welfare research, poultry red mite, tail biting in pigs, and for an overview of pig research see here.
This showcase event provided an opportunity for industry representatives to learn more about these developments and a forum for the exchange of ideas and information. The event also built upon the "Trends in Swine Infectious Disease" symposium previously held in 2017.
Results
The programme for the event was designed to include keynote presentations from pig and poultry industry leaders which could provide an overview of the sectors and highlight the challenges and unmet needs in the areas of health, welfare and nutrition.
Alongside researchers from Moredun and SRUC were guest speakers Andy McGowan (Chief Executive - Scottish Pig Producers), Robert Gooch (Chief Executive - British Free Range Egg Producers Association), and Máire Burnett (Technical Director - British Poultry Council).
During the event, requirements for the pig sector discussed included the need to measure and reduce the carbon footprint, welfare solutions (particular relating to housing & tail length) and a vaccine or treatment for African Swine Fever.
The poultry meat sector highlighted managing avian influenza, the need to reduce reliance on imported soya for poultry feed and a better understanding of antimicrobial resistance in the sector as key issues.
For egg producers controlling environmental salmonella, poultry red mite, biosecurity solutions to manage the risk of virus infections such as avian influenza and welfare solutions (e.g. maintaining feather cover in birds with intact beaks) were all cited as areas where further support and solutions are welcomed from the research community.
SEFARI scientists presented updates of their research areas, examples included poultry red mite vaccine development, novel approaches to porcine vaccines, approaches to address tail biting in pigs.
Over 100 delegates attended the event including representatives from the animal health and nutrition industries, producers, veterinarians, academic researchers and government officials (note: the event was held prior to COVID-19 restrictions).
Networking opportunities during the day allowed the scientists to interact and exchange ideas with industry representatives and stakeholders. Potential new collaborations arising from the day included new links between the poultry red mite vaccine group at Moredun and egg producers which will support further testing of the vaccine.
Benefits
The pig and poultry sectors are major contributors to UK and global food security targets: The amibition for the Scottish pig sector is to double the value of the sector by 2030 bringing total sector output to over £500m. 50% of meat consumed in the UK is poultry with almost 1 billion birds reared annually. 11.4M eggs are produced evry year in the UK with the value of retail egg sales valued at just over £1bn.
The industry focused event enabled SEFARI scientists to further develop their understanding, and ensure their focus and outputs remain aligned with industry needs. It also provided an excellent opportunity for the industry to engage with and learn more about SEFARI research projects and strengthen and increase collaborative relationships.
Project Partners
Documents
Related Links
Research Papers