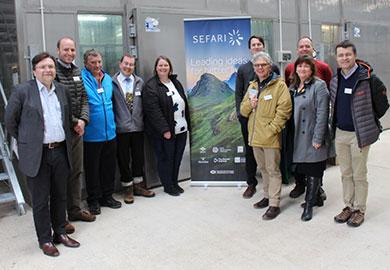 The SEFARI Gateway is the knowledge exchange and impact hub for SEFARI. It aims to enhance the existing strong brands and reputations of the Institutes by adopting a dynamic, innovative, cooperative and collaborative approach that has policy, business and public engagement at its core.
The proactive nature of SEFARI Gateway has provided a new capacity to engage internally and externally with a variety of stakeholders, maintain such engagement, co-construct partnerships and ideas, and build knowledge exchange and impact capacity within the Institutes.
SEFARI Gateway seeks to actively engage with stakeholders and build collaborations; we aim to understand the needs of our different stakeholders (policy, public and business), in order to be able to respond appropriately – with the right information, at the right time, and in the right format.
A few examples of activities and events we have recently been involved in include; the Edinburgh International Science Festival; the NERC Unearthed event; Food Matters Live; the Royal Highland Show and we have also developed three funding mechanisms (Think Tank, Responsive Opportunity and Fellowships) where we are able to extend interactions further and build on relationships.

The Think Tank mechanism is designed to provide a new capability by drawing on the breadth and depth of disciplinary expertise within SEFARI to allow for the opportunity to respond to national and global grand challenges - to deliver insight and vision addressing challenging and often contested research questions of national and international importance.
The Think Tank is designed to allow for the scoping of future scenarios, and consideration of their implications, as well as providing for evidence-based comment on topical issues. Wherever feasible, projects seek to provide recommendations which will be published.
To date, Think Tanks have combined various branches of natural sciences with economics and stakeholder perspectives. For example a think tank on Sustainable Urban Food Systems has brought food chain economics, food-environmental sustainability, public health, geography, sociology, soil science, and nutrition expertise together with Food City practitioners and food advocacy groups. While another Think Tank on Sustainable Protein Sources has combined chemistry, agronomy, agricultural science, horticulture, food science and soil science.
A more detailed update on our Think Tank projects can be found here.

The SEFARI Responsive Opportunity Fund is designed to increase the visibility of the invaluable contributions the Strategic Research Programme makes towards sustainable economic growth and improving the lives of people in Scotland and beyond.
The Fund supports new and collaborative knowledge exchange ideas which add value, and proposals have come from across the range of our research topics. Projects must be inter-disciplinary, cross-institutional, timely, have clear stakeholder involvement, show creativity and demonstrate how they will improve impact.
To date, Responsive Opportunity projects have combined a variety of research with a range of different media and stakeholder interactions. For example, the 'Beauty of Roots' project has brought together artistic and scientific processes to create an exhibition showing the beauty and complexity of roots; while the 'My Food, Our World' project is creating cutting-edge online/digital content designed to provide an interesting insight into SEFARI research and how this supports the Good Food Nation.
A more detailed update on our Responsive Opportunity projects can be found here.

As SEFARI Gateway seeks to improve the flow of research, knowledge and expertise to and from the Strategic Research Programme to our stakeholders, Fellowships provide support for a member of Institute staff to undertake a new Knowledge Exchange and Impact role to facilitate these interactions and activities with key partners.
SEFARI Fellowships are bespoke opportunities for staff from SEFARI, but are co-constructed with our partners. An example is our Cairngorms Park National Authority (CNPA) Fellowship which has enabled direct engagement between the Park Authority and gamekeepers; this has successfully helped to broker opportunities for better dialogue between all parties.
We have run two Fellowships with another currently underway and due to their success, more are being planned.
A more detailed update on our Fellowships can be found here.