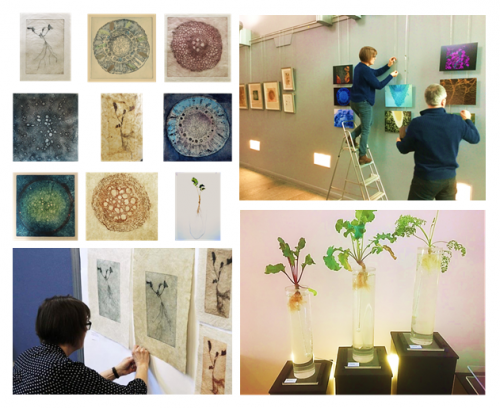 Roots are rarely seen, but they are important and SEFARI research delves below the surface. Roots hold plants upright and soils in place. They acquire the water and nutrients plants need to grow and, thereby, underpin terrestrial food chains and the nutrition of humans and livestock. They can also be beautiful.
To illustrate the beauty and science of roots, SEFARI sponsored a collaboration (through our Responsive Opportunity Fund) between the Centre for Environmental Change and Human Resilience (CECHR) artist in residence (Jean Duncan) and scientists at The James Hutton Institute(Philip White, Paula Pongrac, Lionel Dupuy, Glyn Bengough, Gladys Wright), Scotland's Rural College (Ian Bingham), and the University of St Andrews(Jane Wishart) to develop an Exhibition combining living plants growing with their roots in full view, with scientific photographs, etchings and casts of roots and root structures.
Professor Philip White said "It was a wonderful experience collaborating with such creative colleagues. I think we produced an exhibition that not only illustrated, but also invigorated, our scientific studies and artistic endeavours."
The Exhibition was held in the lobby of The Dalhousie Building, University of Dundee, in March 2017 and items from the Exhibition were subsequently displayed at the SEFARI Showcase event in the Garden Lobby at the Scottish Parliament and at Jean Duncan's Open Studio Event in April.
The exhibitions have proved extremely popular with the public, and over 100 people so far have enjoyed both viewing the artwork and learning the science behind the beautiful roots. More pictures of the Exhibitions can be viewed on several other blogs; including The Living Field, Dundee University, Hertourage and Plantventurist.
The artist in residence Jean Duncan said "I've learned a great deal about the importance of roots in the past few months. The scientists in the project were extremely supportive in helping me produce my artworks and I felt privileged to have access to such a wealth of knowledge and experience, which was so willingly shared."
There is also still plenty of time to view the artwork in person as well as it will feature at The Fascination of Plants Event at The University of Dundee Botanic Gardens on Sunday 21 May 2017; The Byre in the Botanics Programme, The Byre Theatre, St Andrews; The Scottish Natural Heritage Conference Centre at Battleby in August 2017; and The Lamb Gallery, University of Dundee, in March 2018 or if you have another venue you'd like to show the artwork at please just get in touch with us via info@sefari.scot
The SEFARI Responsive Opportunity Funds are designed to increase the visibility of the invaluable contributions the Scottish Government funded Strategic Research Programme makes towards sustainable economic growth and improving the lives of people in Scotland and beyond. The Fund supports new and collaborative knowledge exchange ideas which add value, must be inter-disciplinary, cross-institutional, be timely, and have clear stakeholder involvement, show creativity and how they can have an impact.
Professor Philip White