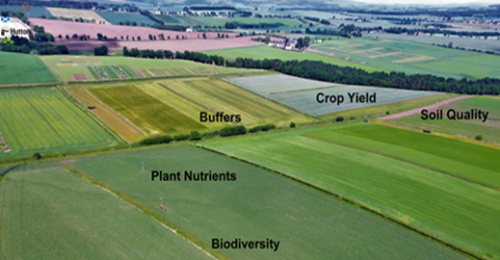 Currently, we are all experiencing unique working conditions, leading us to adapt to new ways of engaging and learning.
In this blog Dr Claire Hardy, who was awarded SEFARI Gateway Responsive Opportunity Funds, explores the use of virtual technology to engage farmers and the agricultural community, helping farmers to experience in-field events safely, flexibly, and remotely.
The COVID-19 pandemic has accelerated our need to use new digital technologies to communicate. Video conferencing has quickly become the preferred communication avenue for colleagues and families – we've all become Zoom experts, Teams champions and WebEx authorities. Online forums have refocused to answer questions such as: does Teams have breakout rooms? Where is the WebEx whiteboard? How do you get out of the Zoom waiting room?
Although working from home has had less effect on the farming community, farmers have been impacted in other ways. The lack of summer events, such as cancelled agricultural shows and mart restrictions, have reduced the opportunity to socially interact and share learned experiences. This is important because the farming community relies heavily on social interactions during periods of down time, to discuss and access information on management practices, new technologies and disease prevention.
Digital tools, however, can allow interaction, mimicking face to face experiences, whilst remaining socially distant. We've been exploring their use to help bridge the gap and feel these technologies will have a role post the COVID-19 pandemic, adding an additional layer of interaction and convenience in the future.
Existing technology, originally developed for gaming has advanced the Digital tools development. The technology allows users to encounter often hazardous and highly technical procedures, without the associated risk. Technological experiences include VR (virtual reality), AR (augmented reality) and MR (mixed or merged reality) – XR (extended reality) is often used to describe all realities. The Oil and Gas industry have embraced XR to enhance industrial training for unique practical and often hazardous situations, whilst health authorities use XR to train carers and physicians without endangering lives.
XR allows users to be immersed in a variety of environments including agriculture and forestry, essentially extending reality to experience conditions unique to specific situations e.g. peatlands, forests. Furthermore, users can access a variety of experiences whenever they choose.
The European funded project PLAID (Peer-to-peer Learning: Accessing Innovation through Demonstration) identified flexibility to access events and innovations were important. We talked to the wider agricultural community who suggested attendance at on-farm events was often a challenge, citing inconvenient timing, clashes with seasonable weather dependent tasks and remoteness of locations. During the project, therefore we developed a virtual farm (proof of concept), which we showcased at several agriculture events in the UK and other EU Countries (e.g. EIP-AGRI and DATAGRI). We received positive feedback from farmers, advisors, supply industry representatives, policy makers and the general public that this digital virtual tool allowed access to innovations on demand at any time.
Taking the successful proof of concept forward, we have been developing both DigiTools (watch this space for a blog that will follow showcasing the launch of the DigiForest, DigiFarm and DigiCroft) and applied for SEFARI Gateway Responsive Opportunity funding to create virtual tours that allow users to virtually experience events. We have created visualisation methods to allow immersive experiences of agriculture and forestry environments and with funding support we were also able to add a immersive experience to the virtual Arable Scotland event.
Four VR crop tours were developed, and a hosted 'go-live' guided tour was added to the programme of events to give participants 'the highlights'.
The four tours included:
Arable Scotland was promoted on both Twitter and Facebook, attracting 70+ participants to the 'go-live' guided virtual tour.
Furthermore, since the event on 2nd July, the Arable Scotland website has received 2300+ views, with the majority of visitors coming from within the UK (87%) and Europe (6%). The international interest, although more limited, has attracted views from as far afield as the US (3%), India (2%) and New Zealand (2%).
The Virtual Crop tours are available on the Arable Scotland website as a lasting resource. The tours, alone, have received 587 views, whilst the recording (of the guided tour) has received a further 30+ views. From these figures we can see people have engaged with the resources both during and after the virtual Arable Scotland event.