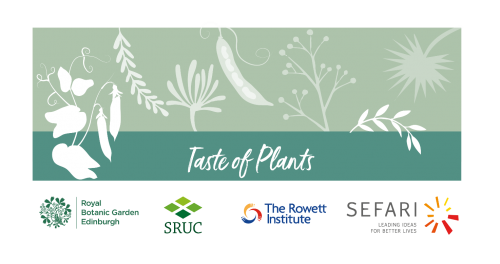 Eating a nutritious and more environmentally sustainable diet is an increasing priority. Growing and consuming novel crops could form part of the solution.
In this blog, we discuss how we have been working to engage consumers and those connected with the food supply chain with our research on crops such as green pea, fava bean, hemp and buckwheat. A recipe book, video, and networking event (supported by SEFARI Gateway's Responsive Opportunity Fund) have been developed to provide a novel and informed perspective on 'A Taste of Plants'.
Future food systems will face unique challenges in order to meet the nutritional needs of an increasing population which need to both cater for our lifestyle choices and address our growing environmental concerns. For example, an important issue will be an increased demand for protein, while confronting environmental challenges, such as climate change. We need to consider the environmental consequences of our dietary choices if our food system is to remain secure.
The World Wildlife Fund (WWF) Livewell report; 'Eating for 2 degrees' has outlined opportunities to significantly reduce environmental impact by changing the composition of our diets. The new and updated Livewell Plates illustrate diets that can be good for both people and the planet. In particular, it was noted eating more plants, legumes and grains could help to cut greenhouse gas emissions.
As agriculture and food production is directly responsible for around 20% of the global carbon emissions, important changes clearly need to be made. In the face of the climate emergency, the Scottish Government is aiming to achieve net-zero greenhouse gas emissions by 2045 and to reduce emissions by 75% by 2030 and 90% by 2040.
The Scottish Government funded Strategic Research Programme (SRP) supports and informs policy, and the sustainable development of Scotland's economy. Across SEFARI this research explores the ways in which Scotland could become more economically and environmentally sustainable, help reduce our dependence on imported foods and ingredients, as well as develop the potential to use our land in different ways. Collectively, we seek to deliver solutions that can contribute to a sustainable and balanced Scottish diet, promoting food biodiversity and a biodiverse agro-/eco-system.
One aspect of our work investigates food crops, which have a high protein content. These crops presently grow, or have the potential to grow in Scotland as they can be produced in places with similar agronomic conditions and climates. Examples of such crops include; green pea, fava bean, hemp and buckwheat. These crops offer an alternative to importing protein rich crops such as soya bean and could contribute to enhancing diversity and the economic stability of local agricultural production. Such crops are also a source of quality nutrients including protein and dietary fibre, and other biologically active compounds called phytochemicals.
As SEFARI scientists (from the Rowett Institute, Scotland's Rural College (SRUC) and the Royal Botanical Garden Edinburgh (RBGE)) we are working together to deliver SRP research on these novel food crops. Using an interdisciplinary, whole systems approach enables an understanding of crop diversification, while contributing to a nutritious, economically and environmentally sustainable food supply system.
Our food and what we eat is clearly an important talking point for us all, therefore we have been creating new communication tools (e.g. recipe books, videos etc.) to raise the awareness and address the relationship between the food supply chain, the environment, nutrition and socioeconomic aspects.
One of the resources we have created to help people to try (and potentially adapt to) a more environmentally sustainable diet is a recipe book called 'A Taste of Plants'. The book contains a collection of plant-based recipes with, as a main ingredient, the food crops we have been researching; namely fava bean, hemp, buckwheat and pea. These recipes have been used in Scottish Government funded human dietary intervention studies at the Rowett Institute, where we assessed the nutritional and health impacts of these crops.
The recipes are already proving popular, but it is also crucial that the supply chain is in place to support the production and processing of these crops as the cooking ingredients need to be readily available. Therefore, we decided to engage with key stakeholders and host a networking event to encourage collaboration, provide an opportunity to share expertise and literally bring the topic to life over lunch. The event lunch consisted of four-courses, each showcasing the use of the identified high-protein food crops. This included fava bean hummus with hemp and pea bread, hemp and buckwheat noodle salad, fava and pea stew and fava and apricots muffins.
In attendance were a range of key organisations and individuals including a politician, local community enterprises, farmers and representatives from the food industry and non-governmental organisations. During the event, our interactive discussions raised important issues including food biodiversification and the importance of moving towards a more nutritious and environmentally friendly diet. More specifically, the informal dialogue covered; the features of crops composition, nutritional benefits and food formulation; botanical aspects; agronomy, soil and environmental aspects; including ingredient versatility as part of nutritious dishes.
Event feedback (as seen in the word cloud) demonstrates participants left inspired, feel better informed and enjoyed the innovative plant-based menu.