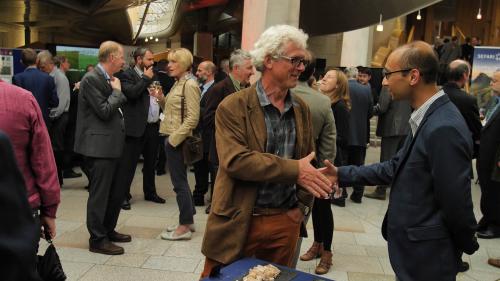 Free to attend, this two day event brings together a range professionals to share tips and advice on best knowledge exchange practice. Organised by SEFARI Gateway and supported by partners, this event will bring together scientists, policy advisors and stakeholders to dissect methods, best practice, innovation in knowledge exchange and impact, as set against emerging priorities.
Sorry, this event has already happened. Have a look at our upcoming events.
Date & Time
5th-6th September 2022 - see outline for timings
Details
The five themes of: engagement, skills, collaboration, innovation and impact will cover a myriad of topics, audiences and examples. Sessions will be led by a diverse cross section of internal (Scottish Government funded Strategic Research Portfolio) and external speakers who will share their wealth of experience and offer real practical advice. In addition, this training and development event aims to offer something for both those new to the knowledge exchange field and those who have have more experience.
Therefore, we are pleased to invite you to attend the 'Leading Ideas Hub', which will take place in-person at the Caledonian Hall, Royal Botanic Gardens Edinburgh (RBGE) on the 5th & 6th of September 2022.
Tickets (available on a first come first served basis) can be booked through EventBrite. Remember to book a ticket for each day you'd like to attend.
If you have any questions about this event please email: info@sefari.scot
Sadly, we are not able to live stream the event on this occassion but we will be recording the event and will make the presentations available on our YouTube site at a later date.
The event outline is:
DAY 1 – 5th September – Caledonian Hall, RBGE
12:00-13:00 Attendee Arrival
13:00-13:15 Opening Address – Day 1 - Mat Williams, Chief Scientific Adviser for Environment, Natural Resources and Agriculture
13:15-14:00 Introduction to Knowledge Exchange - the importance and value of good KE and highlight opportunities to support researchers in gaining experience and building confidence - Michelle Wilson Chalmers (SEFARI Gateway) & Anne Marte Bergseng (ClimateXChange)
14:00-15:00 Examples of Innovative Knowledge Exchange – sharing of lessons learnt - Ruth Wilson (James Hutton Institute), Dave Bartley (Moredun Research Institute), Baukje De Roos (Rowett Institute) and Nicola Holden (Scotland's Rural College).
15:00- 15:15 Break
15:15-16:00 Stakeholder Perspective - what constitutes good knowledge exchange? - Inga Burton, Programme Manager Islands Deal Enterprise and Sustainable Regeneration, Orkney Islands Council
16:00-17:15 Panel Discussion - what works for knowledge exchange, what doesn't? - Kenneth Loades (SEFARI Gateway & James Hutton Institute), Debbie Tully (KTN), Steve Farrar (RBGE), Kim Davie (RESAS) and Ragne Low (Scottish Government).
17:15-18:00 Networking Opportunity
DAY 2 – 6th September – Caledonian Hall, RBGE
9:00-9:30 Attendee Arrival
9:30-9:45 Opening Address – Day 2 - Charles Bestwick (SEFARI Gateway Director)
9:45-11:00 Collaboration and Partnership Working – recognising and developing opportunities for partnership working with different audiences - Lorna Mitchell (RBGE) followed by Stuart Galloway & Alex Hilliam (ClimateXChange)
11:00- 11:15 Break
11:15-12:15 Working with Policy – tips and advice - Sallie Bailey, Deputy Chief Scientific Advisor for Environment, Natural Resources and Agriculture
12:15-13:15 Innovation Uptake - how best to work with business - Debbie Tully, Serena Broadway (KTN) & Howell Davies (Interface)
13:15- 14:15 Lunch & Networking Opportunity
14:15-15:15 Design for Impact – what is impact and how can impact strategies be developed for practice? - Mark Reed (SRUC), David Edwards (Forest Research), Laura Meagher & Pete Hollingsworth (RBGE).
15:15-16:30 Panel Discussion on Horizon Scanning – what are the emerging priorities? - David Miller (James Hutton Institute), Dave Reay (CXC), Steven Thomson (SEFARI Gateway & SRUC), Elisabeth Innes (Moredun Research Institute), Jennie Macdiarmid (Rowett Institute), Jack Bloodworth (RESAS) & Nick Fraser (NMS)
16:30-16:45 Closing Address - Julia Mitchell (SEFARI Gateway & Rowett Institute)
Venue
The Royal Botanic Garden Edinburgh (RBGE), EH3 5LP, is just one mile north of Princes Street and the venue can be best accessed via the East Gate on Inverleith Row.
The Caledonian Hall, built in 1842, overlooks the Garden's famous Rock Garden near the East Gate.
Travel
The nearest railway station is Edinburgh Waverley Station which is 1.5 miles away from the RBGE.
The number 8 bus from North Bridge, or the 23 and 27 from The Mound or Hanover Street all stop on Inverleith Row near the East Gate of the Garden.
Bicycle stands are also located at the East Gate.
Limited paid parking is available on Arboretum Place, Inverleith Terrace and Inverleith Row, opposite the East Gate.