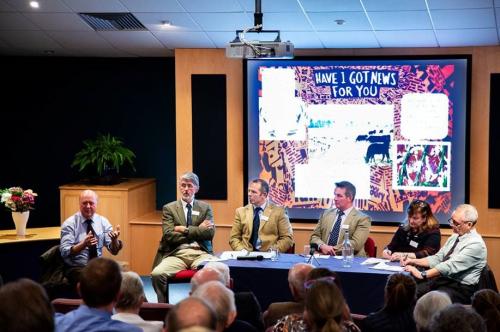 In this blog, we discuss a new project that is seeking to support and inform farmers (through both research and communications) on how to best promote fair, balanced, and more impactful, positive stories about the livestock industry.
Through a collaborative approach, we can increase public knowledge and understanding on how Scots beef and lamb is produced, leading to a wider and better understanding of the Scottish livestock industry, including the positive benefits of eating safe and nutritious food, alongside the environmental, social and economic benefits that livestock farming can bring.
The concept for this project began when her Royal Highness, The Princess Royal, attended a special event held on Monday 21st October 2019 at Pentlands Science Park, Midlothian, to celebrate Moredun's commitment to the contribution of livestock to food production, biodiversity and the environment. Discussions included working in collaboration with partner organisations to help promote the wider benefits of livestock in sustainable food production, promoting biodiversity and minimising any impact on the environment. During the event it became clear the Scottish farming community already has many great stories to tell – they need now to be collated and promoted effectively with the science behind farming clearly explained, and this project is seeking to help.
Speakers at the event included:
Phil Stocker, the Chief Executive of the National Sheep Association (NSA), who is passionate in his support for sheep farming as something we should all be proud of and cherish;
Dr Philip Skuce, a Principal Scientist at Moredun & SEFARI Knowledge Exchange Sector Lead for Livestock, who discussed new research showing the importance of high health and welfare in livestock production systems to reduce impact on the environment and also the impact of climate change on disease risk in the future and;
Sarah Millar, Head of Industry Development at Quality Meat Scotland (QMS), who discussed the nutritional and health benefits from meat and dairy products and the advantages of sustainable grassland and hill farming systems.
HRH The Princess Royal, and later Phil Stocker, Sarah Miller & Philip Skuce being introduced to HRH The Princess Royal
Over 100 event guests attended and also enjoyed an interactive and lively panel debate and discussion on, 'Influencing public opinion towards supporting UK livestock farming'. The forum was chaired by Moredun Regional Advisor, Scott Brown, from Murray Farmcare.
Panel members who presented opinions and viewpoints from across the sector, included:
Phil Stocker (National Sheep Association CEO)
Nigel Miller (Vet and Livestock Farmer, Livestock Health Scotland, Farming for 1.5C Commission)
Bobby Lennox (Livestock Farmer, BBC TWO's 'This Farming Life')
Professor Lorna Dawson (James Hutton Institute Principal Soil Scientist & SEFARI Advisor and SEFARI Gateway Knowledge Exchange Sector Lead for Environment)
Jim Logan (Livestock Farmer, Farmers Weekly British Sheep Farmer of the Year 2019)
Overall, the event key message was about creating better ways of informing and influencing public opinion. Attendees were keen to discuss how to make the public more aware of the valuable work of the livestock industry and how to best promote more impactful positive stories about the industry. There was a strong desire from the farming sector to have an independent and trusted source of science information that could be used to help inform messages about the farming and agricultural sector, and both Moredun and SEFARI have a key role to play in achieving this.
The main points arising from the panel discussion (in alphabetical order) were summarised into the Top Ten Topics below:
Key topics raised from the Livestock Panel Debate
CARBON
Livestock farming can deliver net zero emissions due to carbon sequestration in permanent pastures, and recent advances in science around greenhouse gas (GHG) emissions highlight the short-lived nature of the GHG, methane. Grass and forage-based livestock production is the mainstay of the UK livestock industry, where many of these farms are already carbon neutral.
CHANGE
All sectors across the Scottish livestock industry need to be able to adapt to change and communicate this to the relevant stakeholders, whether that be changing consumer demand, changes/opportunities presented through Brexit or changes imposed through COVID-19 crisis.
COLLABORATION
Collaboration in all of the areas is critical if public opinion surrounding the farming industry is to change. Attitudes within the livestock industry need to shift from "me" to "we", where the livestock farming community works together to publicise the same clear messages so that everyone can be better informed.
EDUCATION
There are several ways that farms can engage with the general public: "Open Farm Sunday", "Face Time the Farmers", guest talks in schools, attendance at shows and keeping websites and social media up to date. Perhaps the most valuable, and most underused, asset the farming community has for education and positive promotion is the Royal Highland Educational Trust (RHET). Despite the great work RHET carries out for the farming community, it could be better recognised and supported by farmers. RHET is currently reaching around 20% of the young people in Scotland.
EFFICIENCY
Efficiency means reduction of disease, decreasing waste, increasing health and welfare of livestock and thus improving the efficiency of production. There is a significant cost-benefit advantage to getting this right and the dissemination of science and best practice guidelines needs improvement in order to increase uptake and change behaviour, so that these practices are implemented on as many livestock farms as possible.
MARKETING
All sectors of the UK livestock industry need to work together and actively contribute to marketing and promoting the positives to the public: safe, nutritious and healthy food, environmentally friendly, natural and versatile wool, a thriving rural economy, landscape and recreation benefits and tourism. This requires bringing on board farmers from right across the industry, scientists, industry bodies and policy makers to make the best use of budgets and to help focus the marketing messages.
MEDIA
Recent media reporting about the industry has been largely negative, often inaccurate, critical and not generally balanced. This is viewed as a massive problem, but the industry acknowledges that it needs to deliver and communicate effectively on three key areas to combat this: Impact on Climate Change; Biodiversity and Ethics.
TRUSTED INDEPENDENT KNOWLEDGE RESOURCES
There are so many different sources of information about the livestock industry available nowadays, especially to potential consumers, in terms of health and environmental credentials of red meat etc., we need to create a resource base for independent, balanced, factual information, relevant to Scotland and based on sound science. Moredun and SEFARI could be the go-to place for independent science related to livestock farming, Quality Meat Scotland (QMS) and the National Farmers Union Scotland (NFUS) will also play a significant role with trusted information about the livestock industry. We could generate a strap-line to use across several websites to direct farmers to the information available e.g. 'Science and livestock farming- a better way forward'?
SATISFACTION
Scotch lamb is not yet at the 'premium' that, for example, New Zealand lamb is now. Repeat custom, which is critical for the sustainability of livestock farming, relies on ensuring product satisfaction. For example, lamb, whether 12 weeks of age or 14 months, is put in the same packet and sold simply as "lamb". Taste trials have shown that people get very different sensory experiences from the different types of meat in terms of texture, flavour, etc. This implies a large variation in the product, and the marketplace is confused as a result.
SCIENCE
Being able to provide the public with factual, accurate and timely information relies on there being a solid scientific message and an evidence-base being in place. Evidence gathering of independent and trusted science is now required in order to inform the discussions and highlight any research gaps.
Taking these key points forward, and with support from the SEFARI Gateway Responsive Opportunity Fund, we planned to engage with a broader Key Opinion Leader (KOL) panel at a subsequent 1-day interactive workshop, to discuss and agree what the main messages are, and how best to communicate these. Unfortunately the COVID-19 restrictions halted all non-essential travel and face-to-face meetings became impossible under lockdown. The broader panel was designed to include QMS, NFUS, selected SEFARI scientists from across the research institutes and international experts in the field e.g. Professor Frederic Leroy, Freie University, Brussels. The project team felt it would be more difficult to achieve fully open discussions in a virtual meeting space, however, we were still keen to utilise the expertise available, albeit remotely, and we invited our KOL panel members to prioritise the Top Ten points raised at the original event panel discussion.
We collated all Top Ten responses received and the rank order was as follows:
| | |
| --- | --- |
| Key points | Ranking in terms of priority for action (1 highest and 10 lowest priority). |
| Education | 1 |
| Collaboration | 2 |
| Science | 3 |
| Efficiency | 4 |
| Change | 5 |
| Trusted independent knowledge sources | 6 |
| Satisfaction | 7 |
| Carbon | 8 |
| Media | 9 |
| Marketing | 10 |
The top three topics of Education, Collaboration and Science were clearly identified and featured as the most important topics to focus on. The key points taken from the discussion centred around building a solid trusted science base to address key knowledge gaps, improved dissemination of information and technologies that could improve production efficiency and livestock health and welfare, better promotion and improved marketing (including improved relationships with the press and media), more focus on customer satisfaction, and an increase in collaborative efforts, public engagement and education.
After completing the groundwork through the event itself and the positive follow-up online engagement with our KOL panel, we are keen to distil the information further into a few very simple clear messages and to develop the best approach to communicate these messages to both farmer and public audiences. It is obvious we are well placed to help and the project team are now discussing the best way to do this, making use of our combined expertise, resources and innovative Knowledge Exchange platforms - watch this space! One of our first outputs will be to host a 'one-stop' farm shop gateway on the Moredun and SEFARI websites, with visualisation of our Top Ten topics, links to relevant research & info, key contacts, QMS/NFUS websites etc. These will be designed to attract and inform both the farming and general public audiences.
The importance of effective engagement with stakeholders (e.g. exemplified by the recent health crisis caused by COVID-19) has confirmed the value of a strong science base and the need to collaborate on the communication of that science in as clear and concise a way as possible. Shared discussions (such as those facilitated through this project) can also help to remind us all of where our food comes from, local distribution of high quality produce, and to value our farmers for the work they do in producing our food to the highest standards of health and safety and animal welfare, while caring for our environment and iconic Scottish landscapes.