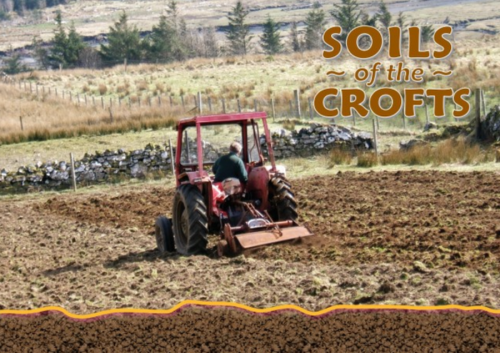 In this blog, Professor Lorna Dawson outlines why soil is so important and how she has been involved in creating a range of online, free to access, educational resources on soils - focussing in particular on the soils of the crofts.
Resources, that can readily be undertaken at home, include a range of practical activities such as cooking, crosswords, creating a wormery, making a composter - as well as suggestions for those interested in learning more about soils, crofting and rural communities.
Soil is fundamental to life on our planet. Soil can be thought of as our earth's protective skin. It nourishes us with food, provides fresh air and water, allows a rich biodiversity to flourish, protects us from climate change impacts and also provides timber to be produced for building materials. It must be protected or we will perish. It is a vital resource - particularly in the communities that primarily live off the land, such as in our crofting communities.
Previously I was lucky enough to work with the Soil Association Scotland, teachers, pupils, crofters, farmers and growers on a project called Crofting Connections. Crofting Connections was a programme of activities and events designed to inspire young people living in remote rural communities. Together we created a book that can be used in schools to inform families about relevant issues including the rich diversity of soils that exist and the many ways we can work with and care for our many different types of soil.
HRH, The Prince Charles, Duke of Rothesay, read and commented on the book by saying:
"…..soils are undoubtedly the forgotten dimension of our environment and it is therefore vital that others look to the example of crofting communities to be able to learn how to nurture them properly. Fragile ecosystems are at a critical point in their evolution, and for natural balance to be restored, we must work with our land rather than moulding it to suit our needs alone. I can only hope that endeavours such as this help to inform and influence future generations to make the right choices when it comes to the stewardship of the soils of the crofts and our natural environment."
The project team created both a physical copy of the book which was sent to all schools across crofting communities and we have also produced an electronic copy which can be 'read' online.
Soils of the Crofts is a comprehensive resource which can help to deepen our knowledge of soil through practical tasks, as well as through science experiments, creative activities and social studies.
In this blog, a range of electronic stand-alone resources from the Soils of the Crofts are now avalaible which allow children, teachers and parents to enjoy some of the activities in the form of worksheets, for times when remote working and home schooling is necessary.
Activities include:
There are also posters on soil which you can download and print out to put up on your wall:
What is in our soils? (English, PDF file, 3MB) (Gaelic, PDF file, 3MB)
How are soils formed? (English, PDF file, 506KB) (Gaelic, PDF file, 501KB)
Soil variation (English, PDF file, 532KB) (Gaelic, PDF file, 525KB)
Finally, you could create a story using our range of soil characters, such as Heather, once you've managed to find her!
Heather relaxing with her podzol profile and her heather moorland topping….
I hope you have fun working with these materials and using your imagination in many more ways too! If you have time once you've tried an activity, we would really like to see what you've been up to, so please tweet (include/tag both @SEFARIscot and @Soilfit) a photo of your endeavours and hard work as it may result in a prize, so getting snapping and learning about how interesting soils really are!
Professor Lorna Dawson, CBE, FRSE, FRSA.
These resources are part of a series of educational resources that SEFARI are making more readily accessible and free to access; to learn more read an earlier blog available here.
If you are interested in crofting and rural communities we can also recommend two projects that have previously received support from SEFARI Gateway's Responsive Opportunity Fund: