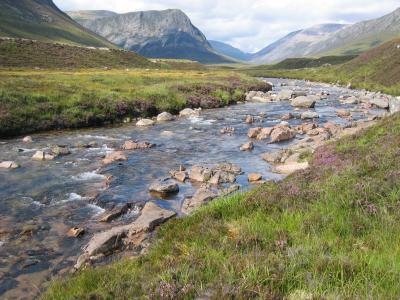 Work Package Water resources and flood risk management
Research Deliverable
Effectiveness of water management
Introduction
Human societies place many demands on our freshwater systems. We hope they can provide everything from recreational opportunities through to safe drinking water. These aims are often reflected and reinforced in the goals of formal policies, especially the EU Water Framework Directive (WFD) and the Floods Directive (FD). However, although we often have relatively good understanding of the biophysical challenges – e.g. pollution levels that cause eutrophication and harm fish populations – tackling these problems is rarely easy or straightforward. Furthermore, actions to achieve one goal – e.g. altering building of concrete embankments to reduce flood risks – may conflict with other goals - e.g. restoring catchment ecology to achieve good ecological status. Certain types of intervention offer 'win wins' that help support multiple goals – for example Natural Flood Management (NFM) can help to support both Flood Risk Management and ecological restoration – but in other cases trade-offs may have to be accepted.
Finding ways to improve water management – to better achieve these goals – is rarely straightforward. The ultimate causes of problems must be understood, and then addressing these often requires changes by individuals and organisations. Multiple social, economic and biophysical factors may drive and reinforce actions that harm the environment or that prevent us from achieving all our goals. This means that we need to reflect on the goals and priorities that we have for our water environment, carefully appraise the range of 'instruments' or approaches that could help us achieve these goals, and build understanding of how – and with whom - to implement them. This RD focuses on building this understanding to help inform and improve future water management. It draws on a mixture of disciplinary skills and expertise including, but not limited to, the social and economic sciences.
Aim of Research
To enable the uptake of measures that will improve water management, both to improve water quality and to contribute to flood risk management. This RD examines the options to improve water management in the complex socio-economic and policy settings of 'real world' catchment management. Separate projects within this RD range in their focus from reviewing lessons from water management in other countries, through to lessons that can be derived from ongoing work in Scottish catchments, and in synthesising evidence and providing tools that can help policy and practitioners to select, target and design measures.
Future Activities
Insights from the project have fed into the next Scottish Government Strategic Research Programme, particularly project 'Aim NBS' (JHI-D2-2), which deepens understanding of how to implement natural flood management within landscapes – and deliver other benefits – framed in terms of Nature-Based Solutions. Insights from this project about landscape scale partnership working and governance have also fed into the project JHI-C3-1. Lastly, the exploration of the role of the private sector and different knowledges, an emergent issue from this project, is being directly addressed in the project JHI-D5-3 'Galvanising change via natural capital' (https://www.hutton.ac.uk/research/projects/galvanising-change-natural-capital ) Insights from this work have also informed our role in H2020 MERLIN, where Hutton leads on how to work with private sector actors to 'upscale' catchment Nature-Based Solutions across Europe.
Selected Outputs
2016/17
2017/18
2018/19
2019/20
2020/21
2021/22