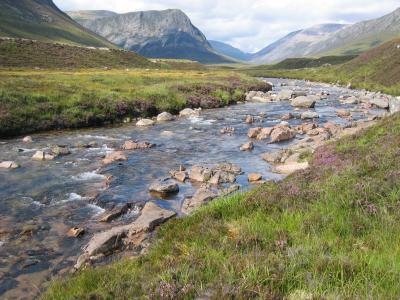 Work Package 1.2 - Water resources and flood risk management
Research Deliverable
1.2.4 Effectiveness of water management
Leading Ideas
Climate and the Environment
Introduction
Human societies place many demands on our freshwater systems. We hope they can provide everything from recreational opportunities through to safe drinking water. These aims are often reflected and reinforced in the goals of formal policies, especially the EU Water Framework Directive (WFD) and the Floods Directive (FD). However, although we often have relatively good understanding of the biophysical challenges – e.g. pollution levels that cause eutrophication and harm fish populations – tackling these problems is rarely easy or straightforward. Furthermore, actions to achieve one goal – e.g. altering building of concrete embankments to reduce flood risks – may conflict with other goals - e.g. restoring catchment ecology to achieve good ecological status. Certain types of intervention offer 'win wins' that help support multiple goals – for example Natural Flood Management (NFM) can help to support both Flood Risk Management and ecological restoration – but in other cases trade-offs may have to be accepted.
Finding ways to improve water management – to better achieve these goals – is rarely straightforward. The ultimate causes of problems must be understood, and then addressing these often requires changes by individuals and organisations. Multiple social, economic and biophysical factors may drive and reinforce actions that harm the environment or that prevent us from achieving all our goals. This means that we need to reflect on the goals and priorities that we have for our water environment, carefully appraise the range of 'instruments' or approaches that could help us achieve these goals, and build understanding of how – and with whom - to implement them. This RD focuses on building this understanding to help inform and improve future water management. It draws on a mixture of disciplinary skills and expertise including, but not limited to, the social and economic sciences.
Aim of Research
To enable the uptake of measures that will improve water management, both to improve water quality and to contribute to flood risk management. This RD examines the options to improve water management in the complex socio-economic and policy settings of 'real world' catchment management. Separate projects within this RD range in their focus from reviewing lessons from water management in other countries, through to lessons that can be derived from ongoing work in Scottish catchments, and in synthesising evidence and providing tools that can help policy and practitioners to select, target and design measures.
Progress
The focus of this year was on consolidating and communicating insights about enabling and improving aspects of water management. A variety of outputs have been published by the two strands of work on policy integration  and on logic-chain modelling. This has been informed and complemented by engagement with non-academic stakeholders, ranging from Europe's Working Group 'F' on Floods (of the WFD Common Implementation Strategy) through to discussion with staff in the National Parks. 
Stakeholder networking and information-sharing is a central purpose of the NFM network Scotland, and it has become well-recognised.  One year after its establishment it now has over 250 subscribers and thousands of pageviews, with user-generated news items, events and case-studies. Related to this, the first E-bulletins have been issued. Alongside this, work continues on a new open source GIS workflow to allow landowners to identify where to place measures that disconnect overland flow pathways in the farmed environment (F-MAPT).
Highlights:
European Commission's Working Group F invited us to present findings from our research on the interaction of the planning processes under the Water Framework Directive (WFD) and Floods Directive, at their autumn 2018 meeting. Discussion and subsequent feedback indicate that it was well received. The slides and a briefing on implications are available from the project web page.
Our insights on integration also fed into a high profile review on the future of the WFD: the lead of this paper was asked to give evidence to a WFD Fitness Check meeting, which in turn inspired a blog by the European Environment Agency asking for better policy integration to deliver the WFD in future.
The project on logic chain modelling developed a prototype web application to help guide spatial decision-making and planning.
The NFM network was mentioned in the Scottish Government report 'Implementation of the Flood Risk Management (Scotland) Act 2009' and was part of Roseanna Cunningham's keynote speech to the Scottish Flood Risk Management Conference in Glasgow, February 2019.
We continued to develop the three strands of work in this Research Deliverable, and discussed early insights with academic and policy groups. Firstly, the project to explore the integration of the Floods Directive and Water Framework Directive completed interviews with policy implementers across the UK, Sweden and Flanders, building on the earlier analysis of plans from these and other European countries. Secondly, the work on Logic modelling was discussed with Scottish policy-makers.
Lastly, we launched the NFM Network Scotland  to share user-generated news items, events and case-studies. Discussions with various stakeholders continued throughout the year and shaped the work.   Alongside this, there was development of an open source GIS workflow to allow landowners to identify where to place measures that disconnect overland flow pathways in the farmed environment (F-MAPT).
Highlights:
An invited presentation at the MARS final conference, to discuss how River Basin Management might be improved, drew on the work on integration (and other projects), to discuss various ways in which integration can be promoted, including via 'vertical consistency', common visions; operational integration, and using monitoring to learn and improve integration.
A new research paper, using Scottish case studies, looks at the user understanding necessary to satisfy increasing demand from stakeholders for tools to support outcomes-based approaches in environmental management.
The Natural Flood Management network was launched at www.nfm.scot, supported by a press release that contained quotes from Environment Secretary Roseanna Cunningham and SEPA Chief Executive, Terry A'Hearn, and gained national media coverage.
Year 1 saw the launch and development of three new projects.  Firstly, a project to explore how to integrate the delivery of the Floods Directive and Water Framework Directive. In consultation with government and agency stakeholders, a methodology was designed to review selected cases from across Europe, for evidence of links in the planning processes specified under each policy.  Late in 2016, a document analysis of these plans and the results was discussed with EU Working Group F of the WFD Common Implementation Strategy. More information about this project is available from the project web page. Secondly, a project was designed to review policy decision making using a 'logic chain' modelling approach; more information about this project is also available from its project web page. Thirdly, flood management scientists planned work to develop a Scottish National Flood Network and made links to flood management evidence through aligned work with Defra, in order to enable knowledge exchange on this topic. Plans for this network developed in close partnership with CREW, SEPA and Scottish Government policy teams.
Two other projects also took place under this RD. Firstly, a project to assess the efficacy of farmer visits in changing behaviour in priority catchments, based on SEPA's data collected during past visits. This project built on prior work and was completed in early 2017. More information about this completed project is available here. Secondly, an interdisciplinary project in the Lunan catchment to build understanding of which incentives and arrangements might be considered appropriate and effective to enable and encourage stakeholders to adopt measures that will improve water quality and/or manage water levels and flows. This project build on work from previous projects, and from spring 2017 was part of RD1.4.3. More information about this project is available here or within the RD1.4.3 page.
Highlights:
A paper on integrating the requirements of the Floods Directive and Water Framework Directive was presented to the European Commission Common Implementation Strategy (the presentation and accompanying report are available here).
A collaborative paper discussing the use of the term 'Nature-Based Solutions'; a new term in environmental research and management, involving Work Package 1.2 staff along with European Union authors, was published in STOTEN, and this paper was then discussed in Nature.
Early deliverables on logic chain modelling were completed. A report has been produced on the potential of logic modelling to help policy and management of natural assets. This report informed Scottish Government colleagues working on outcome-based approaches.
The work in the Lunan catchment saw the establishment of a key user group (land owners and local authority) to oversee water level management decision-making.
Future Activities
In 2019-2021, the work to explore the integration of different goals will focus on if and how catchment partnerships can help to achieve this. We will take an especial focus on the role of the private sector since it is often hoped that closer involvement of this sector can help to improve natural resource management. This work will be carried out in close collaboration with RD 1.4.2, whose past work has not been specific to water management, but has considered different mixes of public and private instruments in the delivery of multiple benefits. More information about this project is available from the project webpage.
In 2019-2021, the work to understand effectiveness of water interventions using 'Logic chain' modelling will focus on stakeholder engagement in case study areas to ensure outputs are accessible and appropriate to potential user needs. In particular feedback on the prototype web app will be sought from stakeholders such as national park staff, and the application will then be revised accordingly. More information about this project is available from project webpage.
The third strand of work - to share and improve guidance on NFM – will focus on developing and refining spatial guidance i.e. a GIS modelling tool that shows how the placement of measures affects overland flow pathways. This approach links to other tools (multi-criteria analysis) being developed in RD1.4.3. Validation of the model will occur in selected sites to ensure the outputs are fit for purpose. This work will be carried out in close consultaton with SEPA and practitioners e.g. in catchment partnerships. Administration and updates of the Scottish NFM Network and e-bulletins will also continue.
Selected Outputs
This is a selected list of outputs to give a flavour of our academic and non-academic outputs and activities – for the full list please contact the PIs of the individual projects within this RD
2016/17
2017/18
2018/19