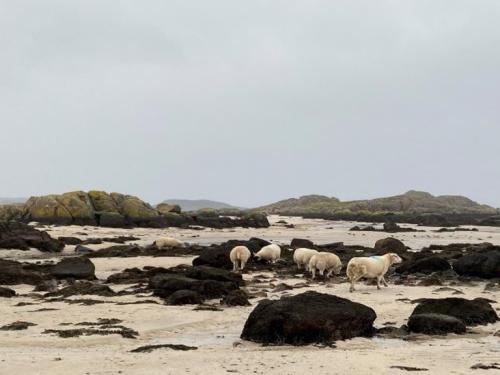 A SEFARI Gateway-funded Specialist Advisory Group brought together a broad range of expertise across key industry stakeholders, Government Policy Leads and relevant SEFARI researchers to discuss livestock health and greenhouse gas emissions (GHG), to prioritise health conditions that have the greatest impact on emissions and to identify practical disease intervention strategies and pathways to impact that will encourage uptake across the industry.
Stage
Work Completed
Directory of Expertise
Purpose
An efficient, sustainable, and profitable livestock sector is important for Scotland, and globally, both from an economic and environmental standpoint. That said, livestock are seen as a major contributor to global environmental problems through GHGs, associated pollution, and biodiversity loss. Animal agriculture does produce (and help sequester) GHG emissions, but is under considerable political pressure, along with other sectors of the economy, to reduce emissions as we work towards Net Zero by 2045.
Poor animal health is a major constraint on efficient livestock production, adding significantly to the carbon footprint of animal agriculture. Several influential groups have reported recently on mitigating GHGs from the livestock sector. These include reports from the following organisations or groups: UK Committee on Climate Change, Ruminant Health & Welfare Group, Independent Farming for 1.5C Inquiry, World Wildlife Fund, Scottish Government Farmer-led Groups, Centre for International Environmental Law and ClimateXChange.
All these groups identified livestock health as one of the most cost-effective GHG mitigation options, and some even included priority disease lists. To build on this previous work, a Special Advisory Group was created - comprising researchers from across SEFARI and key industry stakeholders and Scottish Government Policy Leads – to identify practical health interventions that would help farmers identify where emissions reductions could be made and encourage uptake across the industry.
Results
The Specialist Advisory Group held two virtual workshops, in November 2020 and 2021 respectively. Through these workshops and intervening discussions, the Group gained a better understanding of the practical issues involved in reducing emissions from livestock, and heard the perspectives and priorities of other stakeholder groups represented. There was broad agreement that improving livestock health is a cost-effective, immediate, and practical way for livestock producers to enhance the production efficiency of their animals and to reduce total on-farm GHG emissions. Improving animal health is also a platform to allow optimal expression of other GHG mitigation measures e.g. 'breeding and feeding', novel feed additives etc. However, there is a need to be mindful of unintended consequences e.g. drive for reduced days to slaughter (rare breeds, hill & upland systems), and improved reproductive performance leading to higher numbers of animals on the ground equals higher emissions totals.
The project team has developed a framework for action prioritising the most cost-effective interventions to mitigate diseases and GHG emissions at herd or flock level with clear priorities and goals. The framework stresses the importance of disease and syndrome approach and is centred around three primary target areas: feed conversion efficiency, optimising growth rates and the reduction of involuntary culling of breeding stock. The discussions have contributed to the 'Acting on methane: opportunities for the UK cattle and sheep sectors' report, produced by Moredun Research Institute and Ruminant Health and Welfare Group. This new approach provides an important level of confidence for livestock producers and has led to new research opportunities identified within SEFARI and beyond, especially around the use of data (e.g. animal movements, medicines records, Key Performance Indicators etc.) and appropriate metrics to measure and incentivise behaviour change.
Benefits
Genetic, nutritional and health interventions that reduce GHG emissions through their impact on physical performance and population profile, are presently captured by the present GHG inventory systems. In contrast, novel technical interventions e.g. feed additives and genetics – currently not captured by on-farm calculators or the official inventory system – need to be updated. The new framework focuses on interventions which are practical, and have impacts which are measurable currently not captured by on-farm calculators or the official inventory system, but need to be. Such interventions will allow for uptake and compliance across the industry, and ensure that farmers and the wider sector are credited for making the required improvements.
Further discussion and engagement with relevant industry and policy contacts going forward will focus on embedding the implementation of recommendations in future agricultural policy development. The Advisory Group has presented their work to the broader Scottish Government Agriculture Policy Team, the Scottish Government's Rural & Environment Science & Analytical Services and the UK-wide Ruminant Health & Welfare Group. The Group Lead has also organised and Chaired a special SEFARI-sponsored session on 'Reducing Greenhouse Gas Emissions from Animal Agriculture' at the recent British Society for Animal Science (BSAS) Conference (April 2022), and joined a DEFRA Sheep Sector Advisory Panel, tasked with developing an Animal Health Pathway, as part of post-Brexit policy reforms in UK agriculture. Groups Members have been invited to join a Scottish Government Agriculture Reform Implementation Oversight Board (ARIOB) Working Sub-Group on Animal Health and GHG emissions.
Project Partners
This Specialist Advisory benefitted from input from an extensive list of experts from across the research, veterinary, agriculture and government policy sectors
The Group would like to thank Nigel Miller, (Chair) Ruminant Health & Welfare Group, for providing his time, facilitating the work of the project and his contributions to the drafting of this case study
Documents
Related Links