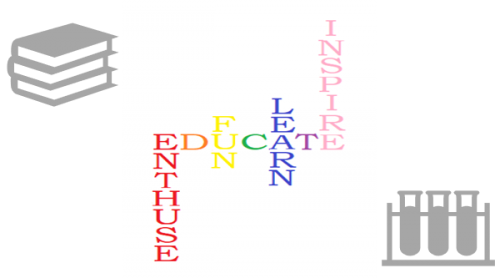 Online educational activities and resources are needed more than ever at the moment to help with home schooling. In this blog, find out how SEFARI is trying to help by making our educational resources more accessible and discover a few of our activities on food, agriculture and the environment that are either available now or are coming very soon.
Many of us look forward to spring and at SEFARI we are no different. It's the time our gardens start to come back to life and usually at this time we would also be sharing our knowledge and enthusiasm with families young and old at the Edinburgh Science Festival. We really enjoy developing and running a range of free to access activities hosted at the Royal Botanic Garden Edinburgh during the festival each year. However, that is in "normal times" and the unprecedented health crisis posed by COVID-19 means for the safety of us all face to face interaction isn't currently possible, and we all need to stay safe and stay home.
Therefore, we wanted to let you know that we have recently created a new educational group who are working out how to make our activities and resources (which are often developed in collaboration with partners) more readily accessible online. The team are a small group of experts from across the SEFARI institutes who are regularly involved in designing new educational activities, enjoy sharing their enthusiasm, want to inspire the next generation and are adept at making learning fun.
At SEFARI we are incredibly fortunate to have access to hundreds of experts across a variety of topics and while this will ultimately result in a fantastic array of resources, it also means it may take us a little time to make everything available so please be patient with us. We are aiming to include clear descriptions, curriculum links and an indication of learner level wherever we can. We hope the resources will help teachers, learners and parents - who are having to adapt to home schooling amongst everything else at the minute! We are also sending SEFARI resource links to our colleagues at educational organisations.
For now, we can share a few online resources which are either already available or in development and are at the core of SEFARI on Environment, Food and Agriculture as a taster:
If you're interested in the Environment, why not take a look at the forest health game Caledon. Caledon was developed by colleagues from across seven research institutes including three from SEFARI – Royal Botanic Garden Edinburgh (RBGE), Scotland's Rural College (SRUC) and the James Hutton Institute. The game enables players to discover the challenges of managing a forest; including managing invasive diseases, grazing animals and dealing with illegal loggers! More can be found out about the game in our blog 'Game of Cones' and the resource is suitable for leaners at Curriculum for Excellence Level 3 and 4.
If Food is more your choice, and you're interested in what we eat and how mathematical modelling can aid better choices when we are shopping, then how about investigating Number Muncher Diets created by colleagues at Biomathematics Statistics Scotland (BioSS) and the Rowett Institute. The program helps users to experiment with different (mathematically calculated) diets by varying particular nutritional, economic, and environmental constraints. Whenever this program has been shown at previous science festivals it has proved popular with both young and old.
If you'd prefer to be a Diet Detective and find out more about a balanced diet; including what nutrients are needed for health and how the food we eat can impact upon the environment then check out a blog that will shortly follow this one. This resource is currently being developed by colleagues at the Rowett Institute and is supported by SEFARI Gateway's Responsive Opportunity Fund.
Another project called 'Microbe Safari' (also supported by SEFARI Gateway's Responsive Opportunity Fund) is currently developing a web-site full of resources for children, young people and teachers, so they can have a better understanding of the role that microbes play in their diet, food safety, food production, farming and the environment. Educational resources will be available for both primary and secondary schools as well as material that has lifted the (toilet!) lid at public engagement events. The project team involves colleagues form Moredun Research Institute, the Rowett Institute and the James Hutton Institute, the team hope the web-site will be live in the next couple of months and are currently preparing a case study for the SEFARI website outlining material that will be available.
Moving to Agriculture, how about playing the game 'Barley and Me', ideal for anyone who fancies being a farmer. The more barley you grow, the more you can upgrade and customise your farm. The decision-based game was developed by colleagues from the James Hutton Institute in collaboration with students from Abertay University.
Finally, how about a recently designed apple pollination experiment designed to help parents who are home schooling their children and has been developed by colleagues at Scotland's Rural College (SRUC). The experiment allows participants to contribute important data that we can use to further our research.
The resources discussed in this blog represent only a fraction of those currently being developed, collated and adapted and we look forward to bringing more to you in the coming weeks and months. Keep updated via @SEFARIscot or get in touch at info@sefari.scot