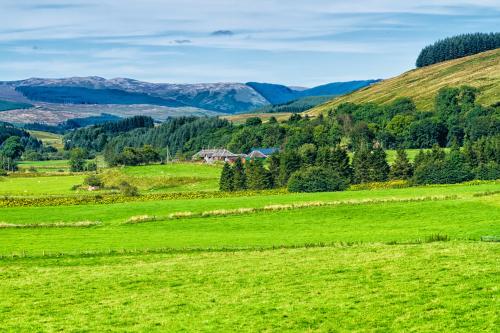 Natural capital approaches involve identifying, understanding, and measuring the relative contribution of nature to economic performance and human well-being. By adopting the language of business, natural capital approaches allow the natural environment to be included in discussions about business decisions. Five land-based businesses across Scotland have trialled various natural capital approaches in recent years, including the Natural Capital Protocol (NCP) and Corporate Natural Capital Accounting (CNCA). This case study synthesises insights from five pilot studies and explains how natural capital approaches can facilitate improved land management in Scotland, within the current policy landscape.
You may also be interested in another case study summarising the results of a retrospective analysis of management decisions on an upland farm in Scotland covering the period 2002-2018, and a prospective analysis of natural capital investment involving woodland expansion.
Stage
Work Completed
Directory of Expertise
Purpose
Natural capital is 'the stock of renewable and non-renewable resources (e.g. plants, animals, water, soils, minerals) that provide a flow of benefits to people'. By using the language of business and economics to reframe nature's contribution to human well-being, natural capital aims to bring the environment into business decision-making.
Scotland has taken a proactive stance to integrating the concept of natural capital into policy measures and guidelines. For example, Scotland's Land Use Strategy (2016-2021) makes natural capital central to how decisions will be made, and business is conducted in the future. Furthermore, the Scottish Government's commitment to natural capital is repeated in all Programmes for Government since 2018 and is supported by the Natural Capital Pioneer Fund in the Route Map to £1 Billion. The current climate emergency and biodiversity crisis also highlight the importance of natural capital management. This is reflected in national commitments including Net Zero Emissions by 2045, the 2030 Challenge for Scotland's Biodiversity and Scotland's Green Recovery Plan in response to COVID-19. Finally, adopting a natural capital approach is seen as a promising means to support improved land management in a post-Common Agricultural Policy environment.
This case study summarises insights from adopting natural capital approaches in five pilot studies and provides recommendations of how natural capital approaches can be adopted and used by different types of businesses in Scotland. A mixed-methods approach including document analysis and semi-structured interviews was used to compare five pilot studies covering a range of difference approaches trialled by the Natural Capital Laboratory, the MacRobert Estate, Crown Estate Scotland, NatureScot and the James Hutton Institute. The pilots covered different types of profit and non-profit-driven land-based businesses (e.g. livestock farming, dairy farming, forestry), extent of the study (i.e. area) and locations.
Results
Findings confirmed that natural capital approaches can improve a business' understanding of their natural capital and support decision-making. However, time, costs and a lack of readily accessible and accurate data remain challenges for wide adoption. Table 1 elaborates these findings by addressing the common rationale for the adoption, the types of information provided and how these are used.
Rationale
What types of information?
How could NCA be used by the business?

Natural Capital approaches help improve organisations' understanding of nature in ways meaningful to them.

Natural Capital approaches provide a structured framework to organise, analyse and understand nature's contribution.

Extent, condition and spatial distribution of natural capital assets.

Value of natural capital assets to the organisation and wider society.

Interdependencies between management activities and natural capital assets, including risks, trade-offs, costs and opportunities.

Breakdown and distribution of benefits arising from natural capital assets.

Identifying priority areas for improvement or investment of natural assets.

Providing a basis to monitor change over time.

Quantifying benefits to justify public funding and creating sustainable investment opportunities.
Table 1 - the common rationale for natural capital approaches adoption, the types of information provided and how these are used.
The four main insights of our study are:
Natural capital approaches allow the natural environment to be included in discussions about business decisions, but there is limited evidence that it has directly affected land management to date. There was general agreement that natural capital approaches can reduce management uncertainties and put land use decision-making that incorporates nature on a more rational footing. However, the pilots provide limited evidence of new or different decisions being taken by land managers.
There are challenges in accurately quantifying and valuing natural capital, but the process nevertheless provides valuable understanding. The usefulness of natural capital approaches is contingent on the availability of sufficiently accurate data. The pilots identified challenges in obtaining the desired biophysical and economic data, and collecting new data was costly and time consuming. Nevertheless, the process of undertaking a natural capital approach was valuable because it encouraged collaboration and knowledge sharing between tenant farmers, land managers and other stakeholders.
There is scope to streamline natural capital approaches and simplify data collection. Many pilots recognised that standardised approaches using agreed templates, metrics and indicators would save time, could overcome data challenges and simplify any required data collection. However, it was also acknowledged that oversimplification could lead to mis-informed land management decisions.
The pilot studies originated from altruistic motivations and stronger economic benefits will need to be demonstrated to encourage wider adoption. The main motivation of the pilot studies was to encourage uptake of natural capital thinking in land management by other businesses. The pilot cases are not traditional profit-driven businesses, and a further demonstration of the value of natural capital to conventional land managers will be required.
Benefits
Adopting natural capital approaches aligns with Scottish Government policy – including the Land Use Strategy and the Green Recovery Plan – and have the potential to: (1) contribute to realising the productive value from nature within ecological limits and (2) shift subsidies away from negative human activities that harm natural capital to positive action that enhance natural capital so that it can continue sustaining human well-being and economic prosperity.
The pilot reviewed here illustrated these potential benefits, but challenges were identified. The nature of the businesses involved prevent conclusive generalisations being formed about the potential for natural capital approaches to be adopted by the corporate, profit-driven land sector. Further pilots across a broader cross section of land sector businesses will therefore be essential to fully understand the potential benefits.
The recently established Natural Capital Pioneer Fund in the Route Map to £1 billion could provide a timely funding opportunity for more land-based organisations to trial natural capital approaches, whilst minimising financial risks. However, it would be important to establish a mechanism to synthesise and learn from future pilots to inform future policy development.
Project Partners
The University of Edinburgh (Marc Metzger and Jasmine Hussain)
The Crown Estate Scotland
The Natural Capital Laboratory
NatureScot
The MacRobert Trust
Related Links