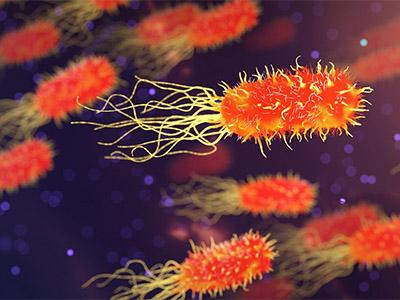 Work Package WP3.1: Improved Food and Drink Production
Leading Ideas
Healthier Foods
Agriculture
Food & Drink Innovation
Introduction
Food safety and public health are recognised as critically important issues for Scottish food production (Scotland's National Food and Drink Policy, 2009). The Food Standards Agency estimate that in the UK, around 1million people per annum suffer foodborne illness, of whom 20,000 receive hospital treatment, with 500 cases resulting in death. The estimated economic cost is nearly £1.5bn. The emergence of new foodborne pathogens or toxins and the control of existing ones remains an important area for future research. Consultation with key stakeholders, including Food Standards Scotland (FSS) and industry highlighted the major areas of concern, including those with relevance to policy, such as the VTEC action plan and Acting on Campylobacter Together (ACT). As such, each of the systems under investigation in this research addresses priority areas or emerging issues for the key stakeholder groups, primarily food and public health agencies and reference laboratories in Scotland and the UK (FSS / FSA, HPS / PHE).
Aim of Research
The focus of the work is on microbial contaminants of food, either directly or via toxins, and heavy metal contaminants. The work will define risk factors and improve detection of the most important food-borne pathogens, toxins and heavy metals, and will examine the flow of antimicrobial resistance through the food and into the commensal microbiota, all of which will contribute to improved public health in Scotland through uptake by stakeholders in public health and the food industry. The work is split into two objectives: the molecular detection and diagnosis of pathogens and risk-based analysis.
Progress
Work within the Food safety objective continues to generate evidence on issues related to microbial and chemical hazards within the food chain. Projects have provided valuable insights into important food pathogens, developing rapid detection methods, assessing AMR carriage through the food system and ranking of risks posed by different pathogens. Analysis of chemical food contaminants included major compounds such as mycotoxins, heavy metals and arsenic in a range of Scottish products from seafood to cereals. Findings are continuously communicated to policy end users and industry stakeholders to identify key intervention points which will improve food safety standards. Some work in this objective has been delayed due to lab closures and research activities will continue into year 6.
Highlights
Factors in horticultural crops were identified that impact adherence and colonisation of the foodborne pathogen STEC (O157:H7), and so inform on risk assessment. 
Theme researchers set up an interactive educational website focussed on microbes, food and health, Microbe Safari, which contains detailed information on microbes and how they relate to gut health, food safety, food production and the environment. The website aims to engage the general public and school children, and had input and support from FSS.
Key papers build on a track record of output on food-borne toxins: (i) the dietary exposure of UK children to multiple mycotoxins from foods showing that safe levels of intake are frequently exceeded, and (ii) how different edible plants and plant extracts impact the growth response of food poisoning organisms, such as Shigatoxigenic Escherichia coli and its common O157 (and less common non-O157) serotypes.  A paper was also published reporting the presence of Toxoplasma gondii in retail meat samples for human consumption, highlighting a potentially significant risk to public health.
An understanding of the impact of plant factors on the ability of STEC to grow and establish is required for food safety and risk assessment. In recognition of this expertise, a researcher joined the UK Food Standards Agency Register of Specialists: 'Food safety – chemical contaminants & additives'.
Detection of microbial, toxin and chemical hazards has been extended to a wide range of foodstuffs, from cereal to meat products. This demonstrates the continued need for surveillance as well as awareness campaigns. As such, deliverable owners continue to work with key Scottish stakeholders to disseminate the major findings. Antibiotic resistance is a global health concern, and work here has demonstrated the value for detection methods, as well as the underlying mechanisms, for priority foodborne microbial pathogens. Risk analysis approaches for other microbes have shown that an apparent antimicrobial property in edible plant species does not inhibit pathogen growth.
Highlights
Scottish AMR research on an International Platform: Work on the influence of selective pressure on the spread of antimicrobial resistance (AMR) ('Impact of antimicrobials on gut bacteria') was presented at the Annual Microbiology Society meeting (Apr-19) and will contribute to a meeting linking to WPs 2.3 and 2.2. AMR is one of the principle drivers in microbiology bioscience, worldwide. Cross-RD coordination will support a Scottish perspective, which can then be used on an international platform, e.g. for the 2020 One Health Congress.
Work from the deliverable was presented and discussed during the SEFARI Gateway-funded workshop 'Scotland's Diner Plate 2050', discussing the future of food production and aspects relating to Food Safety.
Work continues to accumulate primary data that ultimately feeds into risk management approaches for a variety of food-borne biological, toxin and chemical hazards, relevant to Scottish food production. The work adds data on surveillance and detection in foodstuffs, and characterises known hazards in association with their foodstuffs. The work covers priority pathogens and food issues for Scotland, and we continue to work closely with stakeholders such as Food Standards Scotland for knowledge exchange and dissemination. 
Highlights:
Mycotoxin workshop: Building on SRP and SG-funded research, a workshop to discuss mycotoxin monitoring and potential areas of concern in a Scottish and UK context was jointly organised by Food Standards Scotland and the Rowett Institute (May 2018), bringing together representatives from industry, science and government. Discussion (see report) focussed on Fusarium mycotoxins - the most relevant toxins in terms of UK primary agricultural production, and the challenge of monitoring imports following Brexit.
Work on molecular detection of pathogens has led to detection of genes relating to antimicrobial resistance in a range of food commodities and modelling of their transfer in a livestock farm setting. In addition, methods have been developed to aid in the rapid detection of the main source of bacterial food-borne disease in Scotland (Campylobacter). Work focused on risk-based analysis has generated data for parameters relating to food-borne bacteria in fresh produce, mycotoxins in cereal-based products and parasites in meat products. Together the data will help to assign relative risk for each system.
Highlights:
A FSA-RESAS co-funded study has shown that plant-bound mycotoxin metabolites are not absorbed in the gut, but will contribute to risk following microbial release in the human large intestine [Gratz et al. 2017 Mol Nutr Food Res 61 (4), 1-10.], leading to change in policy by EFSA and recommendations [EFSA Journal 2017;15(4):4751].
A research publication on novel approaches for data analysis to help in rapid pathogen detection (https://doi.org/10.1093/bioinformatics/btx628)
Royal Highland Show 2017 exhibits (June 22-25) themed around 'Microbes & Your Food', with an interactive exhibit for the education centre (RHET), covering microbial interactions in food production, digestion and pathogen detection, and a SEFARI joint exhibit that engaged with primary producers (livestock & arable), public health workers (e.g. clinicians, nurses) and policy-makers (SG, food safety agency).
A keynote presentation on 'Food and Waterborne Protozoa: a veterinary and public health perspective' was given at ApiCOWplexa (October 2017, Madrid) (http://www.apicowplexa.net/wp-content/uploads/2019/03/apicowplexa2017_abstractbook.pdf)
The food safety objectives cover a range of targets from food-borne parasites, bacteria, fungal toxins and antimicrobial resistance genes. All of these issues are contemporary and although not specific to Scotland, they are considered priority areas by vested stakeholders in public health and food production. Our work is split into two main objectives: detection and diagnostics, and understanding the public health risk.  New chemo-analytical methods have been developed for fungal mycotoxins and for the identification of Campylobacter and E.coli strains, including the verocytotoxin-producing Escherichia coli which cause infectious gastroenteritis. Associated bacterial genomic analysis is also being performed to correlate with the chemical microbial typing data and to establish evolutionary relationships between these problematic bacteria.  Molecular biological diagnostics have been developed to antibiotic multiple resistance (AMR) genes and are being tested to establish their validity and robustness before trialling against food and livestock samples.  Allied to this a model has been developed to study the flow of these AMR genes in the soil (bacteria) and this will be developed and refined as more data is generated throughout the project. Related to this is the ground breaking research showing that these damaging bacteria can survive in crops in field and through the supply chain, not just in humans and livestock. The science around this is being elucidated and this will have implications for full supply and value chain safety protocol development.
Future Activities
Data gathering and analysis in Year 5 have been disrupted and delayed due to the laboratory shutdown but important work has been achieved towards finalising and summarising the whole 6-year program. A body of work is examining the underlying mechanisms, spread and detection of antimicrobial resistance in a priority food-borne pathogen, Campylobacter jejuni. Elsewhere, sampling and analysis will be completed for the presence of toxins in food, either from fungal pathogen as mycotoxins in cereals, or from heavy metal contamination in a range of Scottish produce. Mycotoixn exposure will also be assessed in a human diet study. Risk-based analysis identified key plant factors that impact risk of transmission of a priority foodborne pathogen, Shigatoxigenic E. coli in horticultural produce. Following the detection of viable Toxoplasma gondii in retail meat samples in Year 5, work in Year 6 will focus on the development of a molecular method for detecting viable parasites in meat to replace the use of animals.