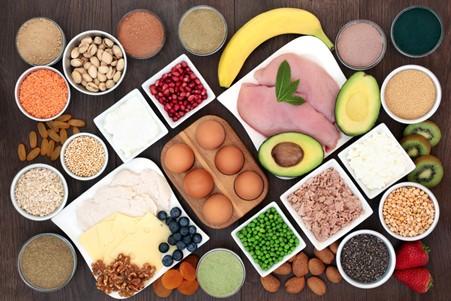 In 2019, a Scottish Health Survey report, commissioned by the Scottish Government, highlighted that two in three adults are classified as overweight or obese (with a body mass index, BMI >25), the highest prevalence since 2003. This is a real concern because obesity, is linked to a range of serious health conditions including diabetes, cardiovascular disease (CVD), hypertension and certain cancers.
In this blog, Professor Alexandra Johnstone outlines recent SEFARI research that has been examining plant-based diets and discusses how, in moving towards a more healthy and sustainable diet, we also need to ensure health inequalities aren't widened.
Dietary patterns in Scotland remain unhealthy and this has an impact on health. In particular, the health harms associated with carrying excess body weight are well documented, with obesity now the second-biggest preventable cause of cancer, behind smoking. Furthermore, people who live in more deprived areas tend to be most impacted and significant inequalities in the levels of obesity persist between people living in the least and most deprived groups in Scotland. This has been highlighted in a Food Standards Scotland report, which found around 32% of adults living in the most deprived areas are obese compared with 20% of those living in the least deprived areas.
Socio-economic impact on obesity
Socio-economic differences in diet are a potential contributor to health inequalities. In Scotland there are substantial socio-economic differences in the rates of obesity and chronic diseases. In the UK, obesity is twice as common in the most deprived deprivation quintiles for men, and three times higher for women (NHS Digital).
People living with obesity from socioeconomically disadvantaged backgrounds face greater health and social harms relating to obesity than those from more affluent contexts. Therefore, in 2021, the National Food Strategy team extensively reviewed the UK food system to provide recommendations on how to plan access to "safe, healthy, affordable food; regardless of where people live or how much they earn".
Food insecurity (FI) The condition of not having access to sufficient food, or food of an adequate quality, to meet one's basic needs (Oxford Dictionary Definition).
In Scotland, food insecurity is monitored as an outcome of wider poverty and inequality. Food insecurity levels remained at 9% in 2019 and insecurity was defined by, 'being worried during the past 12 months that they would run out of food due to lack of money or resources'. It is notable that food insecurity was more prevalent among younger (within the age group of 16-44 years) than older adults.
The importance of diet on our health and for the planet
The UK Committee for Climate Change (CCC) report, Net Zero, includes specific dietary recommendations that our intake of ruminant meat (beef and lamb) and dairy should be reduced by 20% and evidence to help us as consumers translate this into behaviour change is necessary.
Furthermore, the Carbon Trust analysis of the Eatwell Guide shows healthier eating would have a lower environmental impact than the current UK diet, supporting a sustainable dietary approach. The Carbon Trust estimates that if individuals moved from current eating patterns to the Eatwell Guide recommendations, a 31% reduction in GHG emissions, 17% saving on water use and 34% reduction in land use could be achieved (Carbon Trust 2016, The Eatwell Guide: a More Sustainable Diet).
Sustainable Healthy Diets are 'dietary patterns that promote all dimensions of individuals' health and wellbeing; have low environmental pressure and impact; are accessible, affordable, safe and equitable; and are culturally acceptable" (FAO and WHO, 2019).
Sustainability is a priority for each of the devolved governments in the UK and in Scotland, the Good Food Nation policy, first published in 2014, set out an aspiration to produce food that is "tasty to eat and nutritious, fresh and environmentally sustainable".
While the terms 'food insecurity' and 'environmentally sustainable' diets are themselves controversial, our diet clearly has an impact on our health, the planet and is also a likely contributor to health inequalities. Therefore, as we move towards more plant-based eating to address environmental concerns, we need information to help us, as Scottish consumers, make fully informed dietary decisions. Especially, as not all healthy eating patterns are guaranteed to be sustainable, and conversely, a diet that has a low environmental impact is not necessarily nutritionally adequate.
Our new research
SEFARI research on plant-based eating, is identifying inequalities in food consumption patterns in Scotland and aims to use this understanding to help.
Using the National Diet and Nutrition Survey dataset (years 2008-2019, for Scottish adults (n=aged 40-70), we considered the influence of sex, age, income and Scottish Index of Multiple Deprivation levels (SIMD) score upon the quality of our diet.
In particular, and as illustrated in our infographic, we found that those living with the lowest deprivation SIMD level had a better quality of diet in terms of higher consumption of fibre, fruit and vegetables, and plant protein, compared to those with the highest deprivation SIMD level. We now plan to explore the reasons for this, in order to better support those living with inequalities within the Scottish Food System.
Infographic summary of key research findings
We also found:
Consumption of a similar amount of red and processed meat (99g/d) was evident across deprivation areas.
Scottish consumers ate more red meat than the World Health Organisation's recommended daily amount (<90g/d).
Plant protein intake (peas, beans, pulses) was the lowest for those with the highest deprivation SIMD level (18.5g/d), in contrast to those in the lowest and middle SIMD groups (22g and 21g, respectively).
The need to understand how to effectively support healthy and sustainable eating behaviours across society is further supported by the One Blue Dot report (2020) from the British Dietetic Association, which outlines that healthy, sustainable eating patterns have been associated with improved health outcomes. These include a reduced risk of obesity and reduced rates of diabetes and heart disease and could thus result in reductions in total mortality by 6–16%.
However change isn't easy for everyone, as according to the Eatwell guidelines, in order for those on low incomes (the poorest fifth of UK households) to consume a healthy diet they would need to spend 40% of their disposable income on food, which compares to just 7% for the richest fifth (The Broken Plate Report: Food Foundation, 2021). Therefore, focusing on people with low incomes will have a greater benefit to tackling health inequalities and this is paramount as many food interventions often widen the inequalities they seek to reduce.
Additional resources:
The State of Food Security and Nutrition in the World
The State of Food and Agriculture
Professor Alexandra Johnstone and Claire Fyfe,