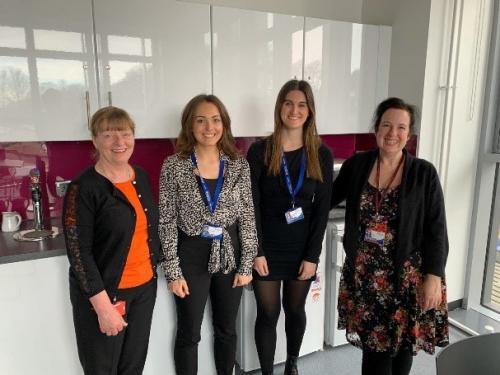 During the COVID-19 crisis SEFARI research institutes are not able to conduct human nutrition trials but that doesn't mean we can't find other ways to help.
Normally our Human Nutrition Unit team (pictured in the volunteer dining room - prior to the current COVID-19 social distancing requirements) cook for and feed our volunteers as part of the human nutrition trials conducted by our researchers. The team are interested nutrition and care about what we eat, but what do they do when they have no one to feed?
In this blog, one of our nutrition assistants, Aimee Sutherland (pictured second from the right), tells us her story and highlights a series of new recipes the Human Nutrition Unit team has designed to help keep us healthy during this stressful time.
Why did I choose a career in nutrition?
I have always exercised but when I was younger, I didn't take much interest in what I ate, I chose unhealthy food like cookies or chips every day for lunch at high school until they were banned! During my last few years of high school, I started to take more of an interest in cooking and what I was eating, and I felt so much better for it. That's when I started to make the link between what we eat and how we feel.
Consequently, I studied a BSc (Hons) in Nutrition to learn more about this relationship, and how nutrition influences health at the individual, community and population level. While I was studying, I also volunteered with different charities which helped me to understand the barriers that people face when it comes to eating well, and this experience made me passionate about helping healthy eating to be more accessible as my future career.
What is it like working at the Human Nutrition Unit?
I work in the metabolic kitchen within the Human Nutrition Unit at the Rowett Institute, where I spend most of my day preparing diets for a range of different nutrition studies. I also help our dietician when we design diets for new studies.  We work on many different human nutritional studies which is great as I like to be kept busy, and we have the capability to undertake different research studies simultaneously.
Another part of my role is working closely with human study volunteers, making sure they feel welcome and dealing with any issues encountered on the study diet. Some of the volunteers, due to the type of study, have to come into the Human Nutrition Unit numerous times a week over many months and I enjoy getting to know them.
I have always been interested in keeping up with current nutrition research and the latest health information. Working for the Rowett Institute provides me with the opportunity not only to keep up to date with current research but also be a part of it, just as our volunteers are. We are always working with new products and different nutrients for studies, enabling us to learn new things about nutrition, as well as experimenting with new and different nutritious recipes which is exciting.
COVID-19 – How can we still help from home?
Working from home comes with its own challenges, as many of us are facing, such as getting used to a new routine, missing seeing colleagues regularly and using new technology to stay in touch.  However, working from home has also provided opportunities too; the opportunity to work on different projects, learn new things, and it is good to be able to help society during this difficult time.
A new project involves supporting the public to eat healthy at this stressful time.  Some of us can't go to the shops and are struggling to get the foods we would normally eat, so we have been creating a series of recipes based on store cupboard ingredients.  The recipes are designed to give everyone ideas on how to still eat healthily whilst using food we more than likely already have at home.
As part of the project we calculate the nutritional content of each recipe and this is included as nutritional 'traffic light' information, just as we see on packaged food.  We have also tried to make the recipes as flexible as possible enabling individuals to substitute ingredients and use up what they already have. The recipes are easy to follow, even with little cooking experience or equipment, so everyone can still enjoy healthy meals.
The project has enabled me to be creative, use our research to help people at a difficult time and has kept me very busy over the last few weeks!
A challenge we had with this project was that normally we would test any new recipes in the Human Nutrition Unit kitchen, but the current COVID-19 restrictions meant this wasn't possible as we all need to stay home and stay safe. Therefore we created recipes we'd eat ourselves and even tried them out in our kitchens at home.
Working on this project with the Rowett Institute's Knowledge Exchange Team has been an opportunity to communicate with a wider audience which isn't typically part of my 'normal' role, but hopefully the new recipes will help us to eat and feel healthier especially at this difficult time.
Our store cupboard recipes can be found here: https://bit.ly/Rowett_StoreCupboardRecipes
Miss Aimee Sutherland, Nutrition Assistant, Rowett Institute
Dr Russell Betney, Science Engagement Officer, Rowett Institute
Dr Julia Mitchell, Head of Knowledge Exchange and Impact, Rowett Institute (julia.mitchell@abdn.ac.uk)