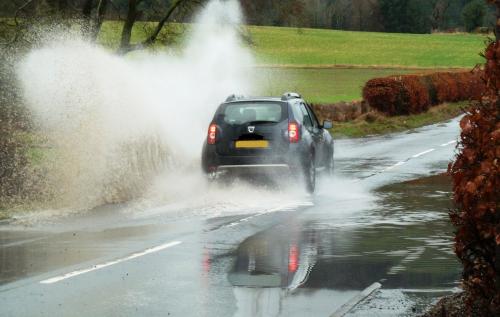 This week is Climate Week, which seeks to raise awareness of the issues and highlight how Scotland is a world leader in trying to tackle climate change. Here at SEFARI, the topic of climate change is very important to us and we deliver a wide research programme on the measurement, modelling and mitigation of greenhouse gas emissions. We also recognise it is an issue that needs a strong collective effort and we are delighted that in this blog Dr Matt Aitkenhead outlines a workshop he is organising to do just this.
Climate change and the impact it will have presents significant challenges to our future. The effects will be felt across many sectors of society and will influence our personal and professional lives in some profound ways. Some of these impacts have not been identified yet and even when they have they can still be difficult to assess, both in terms of how important they will be and what knock-on effects they will have.
This is an area of research I'm particularly interested in. I have a background in a wide range of soil and environmental topics, and this includes the modelling our complex environmental systems and how they could change in different scenarios.
Recently, and together with my colleagues from the James Hutton Institute, we have identified areas or challenges that science can help to provide solutions to, as outlined in our science strategy. These science challenges are broadly related to food security, ecosystem resilience and innovation for sustainable communities. Each science challenge has a representative on a rolling one-year position who is responsible for promoting that challenge and organising related activities and this coming year I am delighted to take on that role.
Consequently, I am organising a workshop that will discuss the 'scenarios of extreme climate change in Scotland' and the plan is to have discussion groups examining questions relating to several of the key topics. The workshop will be run twice and will take place on the 29th of January 2019 (Aberdeen) and 5th of February 2019 (Dundee). This approach seeks to help research organisations (including our partners from across SEFARI) and other stakeholders working on research connected with climate change, to orient themselves to the future research calls and policy needs regarding the future extreme climate change scenarios we could all face.
Examples of questions will be given at the start of the day to initiate and facilitate discussions then each group will be given a small number of scenarios to discuss and interpret. Each scenario will contain drivers that will impact on society and the environment in many ways. Discussion will focus on potential responses to these drivers and their impacts, in terms of what knowledge will be required to do so effectively, and how these responses fit with existing practices.
By bringing together a range of experience, disciplines and ideas in this way, collectively we will be able to produce a comprehensive list of research and policy priorities that are likely to come up over the long term. This will allow everyone to orient themselves to future research calls and policy needs in relation to future extreme climate change, resulting in a more coordinated and effective approach.
So while you are taking park in climate week this week, this could also be an opportunity to register for our workshop too and perhaps jot down some ideas of what you would like to see discussed to help us in making a real difference.
If you are interested in attending the workshop, please contact me at matt.aitkenhead@hutton.ac.uk and don't forget to include which location (Dundee or Aberdeen) you would prefer to attend. Attendance is free but don't wait too long to get in touch as space is limited. Attendees will be sent additional information nearer the event date, including travel guidance, a timetable for the event and a request for dietary requirements.
This week, SEFARI is also showing a thought provoking art exhibition by Newton Harrison called the "Deep Wealth of this Nation, Scotland" which seeks to portray a vision of how one small country can mobilise to be the first industrialised country to move past the carbon cycle and give more to the global environment than it consumes. This project was supported through SEFARI Gateway's Responsive Opportunity Fund. The exhibition will be at the James Hutton Institute's 41st T.B. Macaulay Lecture which focusses on the United Nation's Sustainable Development Goals. In the lecture Professor Jacqueline McGlade will discuss the lives and experiences of those facing the day-to-day challenges associated with climate change.
Dr Matt Aitkenhead, Soils Scientist, The James Hutton Institute.