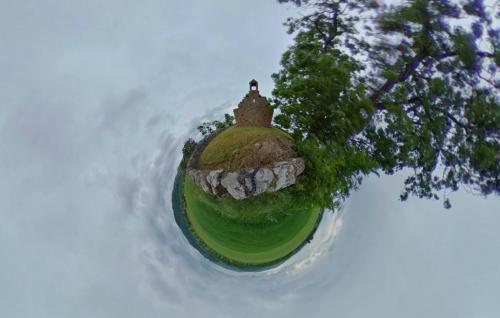 Working in research we regularly need to focus on the detail, but it is still important to take a step back and look at the bigger picture - so for this year's Royal Highland Show we decided to use technology to help.
As the SEFARI Knowledge Exchange Sectorial Lead for Soils and Crops, Ken's particularly interested in how plant roots play a critical role in mechanically stabilising soil, so he never thought he'd be enlisting the help of a Pufferfish to communicate research! Pufferfish, however, offered the opportunity to use 360o virtual interactive technology to help bring to life not only the work of SEFARI, but also that of Scotland's Centres of Expertise. The centres help bring together, and translate, research whilst also responding to threats relevant to their areas of expertise. In total there are 4 centres of expertise covering water (CREW), climate change (ClimateXChange), animal disease (EPIC) and plant health (Plant Health Centre).
The Centres of Expertise, and SEFARI, are all funded by the Scottish Government to improve the flow of knowledge and expertise between researchers and users. The topics we research clearly all affect our environment, but the audiences for each of the Centres of Expertise, and SEFARI, are slightly different, however we recognise that we (literally) share the same landscape and this gave Ken the inspiration for this project. By using technology we can easily bring the rural environment to everyone, allowing people to explore the landscape and discover how we all are working together for the benefit of society. Visitors can learn about each centre of expertise and SEFARI in turn by clicking on the interactive buttons to discover more; for example that EPIC combine veterinary, economic, social science, statistical and mathematical perspectives to combat animal disease outbreak and that CREW is a Scottish Government funded partnership between the James Hutton Institute and Scottish Universities.
It has been an excellent opportunity to work with colleagues from across the Centres of Expertise and activities like this will only strengthen our collaboration.
'It is great for ClimateXChange to be part of this and show how Scotland's research community work together. We hope this demonstrates to visitors how we all join the dots when it comes to making decisions to tackle climate change while looking after Scotland's environment.' Anne-Marte Bergseng, ClimateXChange.
'Working with SEFARI and the Directors and Managers of the other Centres of Expertise to create a 360 interactive display has been a real pleasure and continues to strengthen the integration between our activities in terms of stakeholder engagement'. Professor Ian Toth, The Plant Health Centre.
Therefore if you are visiting the Royal Highland Show do come and see our Pufferfish interactive, which is in the James Hutton Marquee on Avenue Q, as we'd love to know what you think. You might also be interested to know this display isn't all that's happening though, as many of you will already know, we regularly attend the Royal Highland Show and so as usual there is lots more you can see from SEFARI too. To help you find us we'll be putting out new SEFARI exhibition flags around the showground this year, but we thought we'd also give you a quick summary here too.
In The James Hutton marquee there will be a range of exhibits covering plant science, sustainable agriculture, indoor farming, bioinformatics, soil research and social science. There will be experts on hand at all times who are always happy to answer any questions. On Thursday, Pete Wishart MP (chair of the Scottish Affairs Select Committee) will provide a policy perspective on Scottish research and innovation. Professor Ian Toth will also be there to talk about Scotland's newest centre of expertise, the Plant Health Centre, and how the centre is a 'one-stop shop helping safeguard Scotland against plant health threats' as he discusses in our last blog. On Friday, Lord Duncan (Parliamentary under Secretary of State for Scotland) will discuss the role of Scottish science in the UK's Industrial Strategy before the presentation of the 2018 'Best Soil in Show' award.
Over at Moredun's marquee (on 7th Avenue), there will be a new animated film – Fighting Liver Fluke and another film and website project from the President's initiative to encourage careers within the land based industries. On Friday there will be a stakeholder reception while anyone can also drop in for a livestock health consultation at any time. At the weekend there will be educational hands on activities on food borne pathogens; this is an expansion of a previous activity you may have had fun with the kids at in the RHET centre last year? We've recently awarded funding from the SEFARI Gateway Responsive Opportunity Initiative to help develop more fun activities like these and the project team will be trialling their latest activities for you to enjoy.
Just a few metres away from the Moredun marquee at the Scotland's Rural College pavilion there will be a range of events including; an invited audience talk on 'National BVD/IBR eradication in the Netherlands and in Scotland: lessons to be learned', a visit by Dunbar High School pupils who are involved in the Foundation Apprenticeship Scheme, the Oxford Farming Conference Scholars reception, a Business meeting hosted by Chloe McCulloch and a stakeholder reception - all on the Thursday. On Friday the Rural Policy Centre will hold a debut film screening about migrant workers and on Saturday there is a RHET teacher training event.
Finally, over at the Scottish Government Pavilion (near Ingliston House, on the corner of Avenue H and 10th Avenue) on Thursday (at 11am-12noon) SEFARI will be hosting an event to celebrate the place of young people in Scotland's land based industries, focussing on the skills and expertise needed in the modern world – and how SEFARI, and the Scottish Government's funding of research helps make a more resilient sector for the long-term. The opening address will be by the Minister for Employability and Training, Jamie Hepburn MSP. Later the same day (2-3pm, Thursday) EPIC the Centre of Expertise on Animal Disease Outbreaks also has an event in the Scottish Government Pavilion 'Supporting Scotland's Bovine Viral Diarrhoea eradication programme'.
The Royal Highland Show is always full of activities and surprises (although hopefully that won't include a heavy rain shower!) and it's a great place to talk to lots of people who love all things rural, so look out for our SEFARI flags and come and see us - as we like to talk!
Dr Kenneth Loades and Dr Michelle Wilson-Chalmers, SEFARI Gateway.