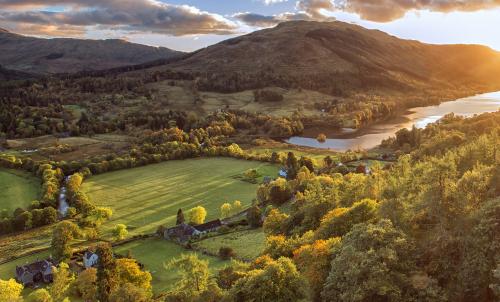 We are pleased that Professor Ian Toth, Head of the Plant Health Centre, is able to tell us more about this new virtual centre and why working together is crucial for enhancing Scotland's resilience in the face of threats to arable crops, trees, horticulture, and wild plants. The Plant Health Centre joins three exisiting Scottish Centres of Expertise on climate, water and animal disease.
By Professor Ian Toth, Head of the Plant Health Centre
The creation of our new Plant Health Centre for Scotland could not be timelier. Plants are integral to our daily lives - they regulate our climate, they nourish us, they characterise our landscapes and provide the raw materials that support our economy. We risk losing these benefits if we do not respond effectively to the new plant pests and diseases threatening our borders.
With increased trade with the rest of the UK, and potentially a whole new level of trade with the rest of the world following Brexit, the risk and disruption caused by new pests and diseases is set to increase. The effects of our changing climate will only exacerbate this increase, as pests and pathogens from warmer countries are likely to arrive and settle in Scotland.
One example of great concern is that of Xylella fastidious, a bacterium that has killed millions of olive trees in Italy and had a huge impact on its rural economy. This pathogen is capable of infecting hundreds of different types of plants including trees, ornamentals and crops and could act as a ticking time bomb in a less rigorously monitored wilder environment.
Scotland already has the psyllid insects that appear to be transferring the pathogen and certainly some of the host plants.
Plants play essential roles in our daily lives, however, the potential for harm from pests and diseases is ever present. The Plant Health Centre will be at this year's Royal Highland Show at the James Hutton Institute stand.@SRUC @fcscotland @nature_scot pic.twitter.com/soPCaOFgV9

— Rural Matters (@RuralMattersSG) June 12, 2018
For the first time, the Centre brings together the plant sectors for forestry, horticulture, environment and agriculture to co-ordinate plant health knowledge, skills, needs and activities across Scotland. We will also be working with the Scottish Government, public bodies, industry, the public and others to provide scientific evidence that will help make informed decisions about how to keep Scotland's plants safe from harm.
While all of these sectors have worked hard individually to deal with plant health issues, bringing them together for the first time allows experts from these different sectors to share their skills and experiences – not least in cases such as Xylella where a common approach to a multi-sector threat is essential. This type of model is already in operation across the three existing Scottish Centres of Expertise on climate, water and animal disease.
We have already begun cultivating this common approach. At our launch event last month at the Royal Botanic Gardens Edinburgh (RBGE) we brought together 60 participants, from a range of different sectors, to discuss the many issues that affect Scotland's plant health and how the Centre might help to tackle them.
The UK Plant Health Risk Register has identified over 1000 threats to the UK and we will be targeting our efforts towards those that pose the greatest threat to Scotland.
Delighted to welcome the launch of @PlantHealthScot https://t.co/49muwBqSyi and to working together with all the #centresofexpertise @EpicScotland CREW & @ClimateXChange_ on #LeadingIdeas pic.twitter.com/FEZ9b29jE2

— SEFARI (@SEFARIscot) May 22, 2018
We were fortunate enough to have both the Scottish and UK Chief Plant Health Officer, Professor Gerry Saddler and Professor Nicola Spence, respectively, at the meeting to offer their support for the new Centre. We will be working closely with Professor Saddler, who is also the Head of the Science and Advice for Scottish Agriculture (SASA) to help protect Scotland from the many potential threats.
Listening to our stakeholders and understanding what their plant health needs are is at the heart of what we do. Our next event will be at the Royal Highland Show (James Hutton Institute marquee on Avenue Q of the show ground at Ingliston) so please come and join us to find out more about what the new Centre can do for you.
You can follow the Plant Health Centre on Twitter @PlantHealthScot and find more information via their website.
Notes: The Scottish Centres of Expertise are all funded by Scottish Government through RESAS (Rural and Environment Science and Analytical Services Division) to help tackle policy challenges for Scotland.