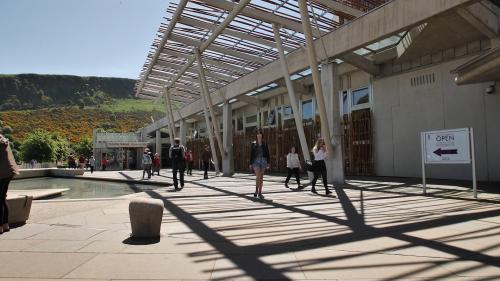 Scotland's thriving food and drink industry is a major contributor to the economy, worth £14 billion each year. Ambition 2030, the new industry-led strategy, aims to increase the value of the sector in Scotland to £30 billion by 2030. This is to be achieved in the context of some significant challenges.
The global population continues to rise, there are fewer resources available, and we have a changing climate. We live in a period of geopolitical change, and we must ensure that economic growth is not at the expense of public health or our natural capital.
Scotland's science base has a significant role to play in improving the resilience of the food and drink sector, boosting innovation, but helping to ensure that sustainable economic growth is kept within environmental limits.
SEFARI and partners deliver related research right across Scotland's food supply chain – from the genetics behind livestock and crops to the microbiology of our guts. This puts us in a unique position to collaborate with those in the food and drink industry. Crucially SEFARI, via its knowledge exchange hub - the SEFARI Gateway – can be a one-stop shop where business and other audiences can access publicly funded research and expertise.
Every year we organise a showcase event in the Scottish Parliament where we demonstrate our innovative and cutting-edge research. This year we aimed to bring to life some of the ways our scientists are helping to secure Scotland's food future. The audience included MSPs, Scottish Government and Scottish Parliament officials, and representatives from across Scotland's food supply chain. We showcased work on improving our understanding of how to manage our land more sustainably, identifying new sources of protein, enhancing the health properties of processed food and producing new types crops and livestock.
We were especially grateful to Emma Harper MSP, who hosted and spoke at the event, the Cabinet Secretary for Rural Economy and Connectivity, Fergus Ewing MSP, who provided the keynote address, and Professor Colin Campbell, who offered a perspective as Chair of SEFARI.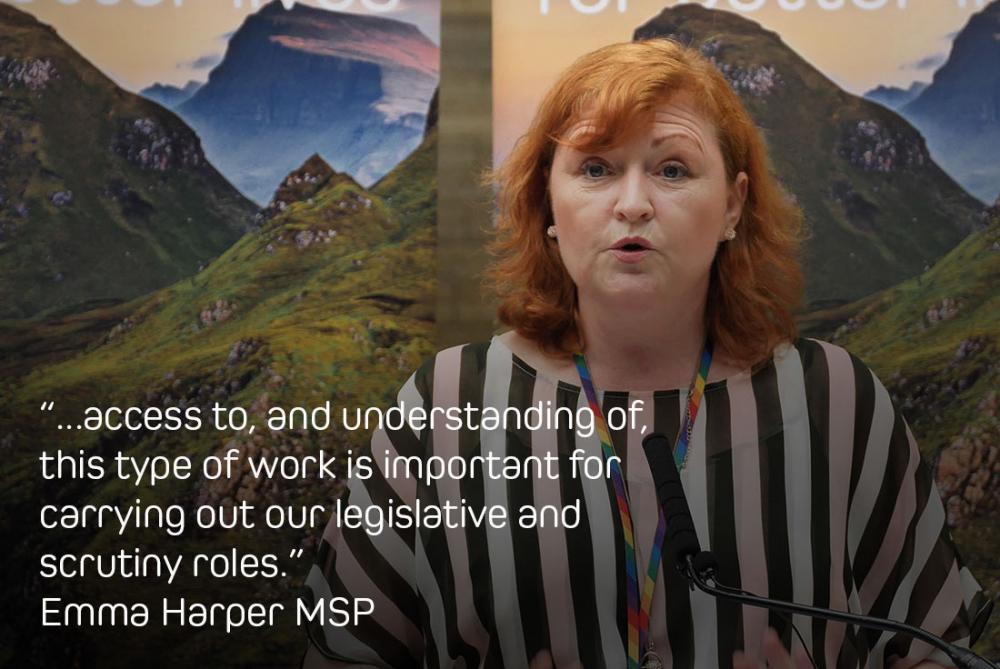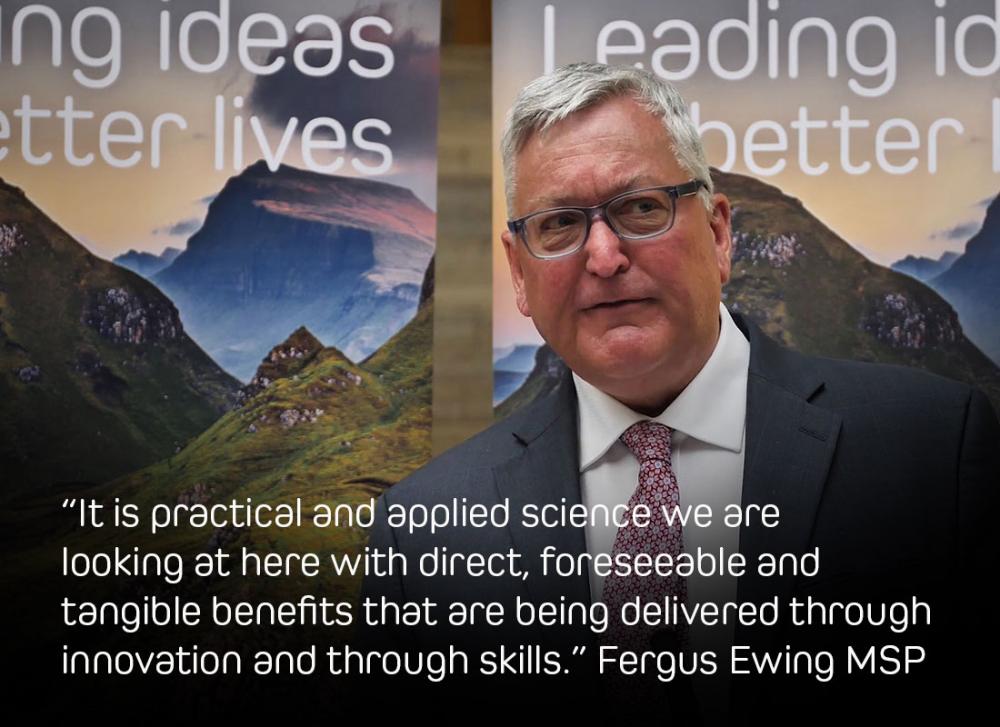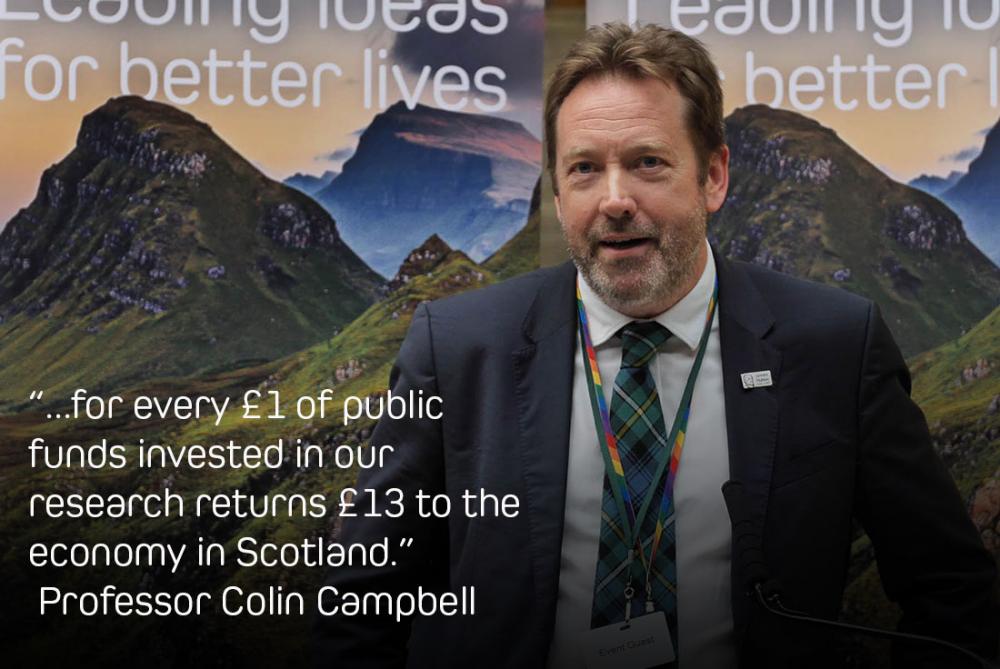 "I am exploring the genetics of Bere barley, one of Scotland's native crops grown in the Highlands and Islands. I am looking to identify the characteristics of Bere which have been important for Scottish agriculture for hundreds of years, namely its ability to grow in nutrient-poor soils. This state-of-the-art work will allow us to better understand and use native genetic resources to help breeders improve barley varieties for the future."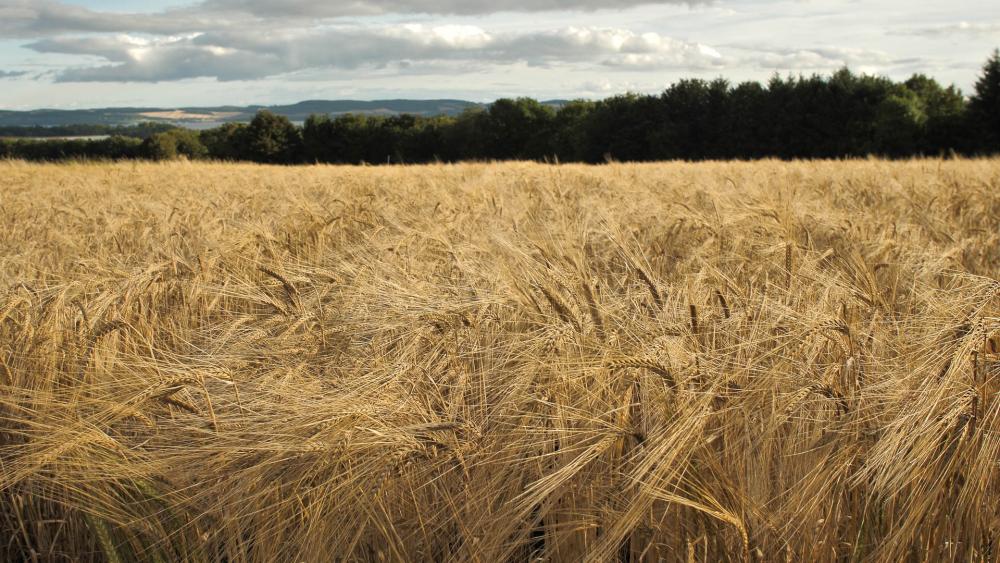 "We are exploring the link between grassland soils and greenhouse gas emissions to contribute towards emission reductions in the agricultural sector. We brought some planted grasses and a gas analyser so attendees could try taking GHGe measurements themselves. We are performing these measurements on a much larger scale using a new platform focussing on grass species and mixtures."

Drs. Roy Neilson, Eric Paterson and Maddy Giles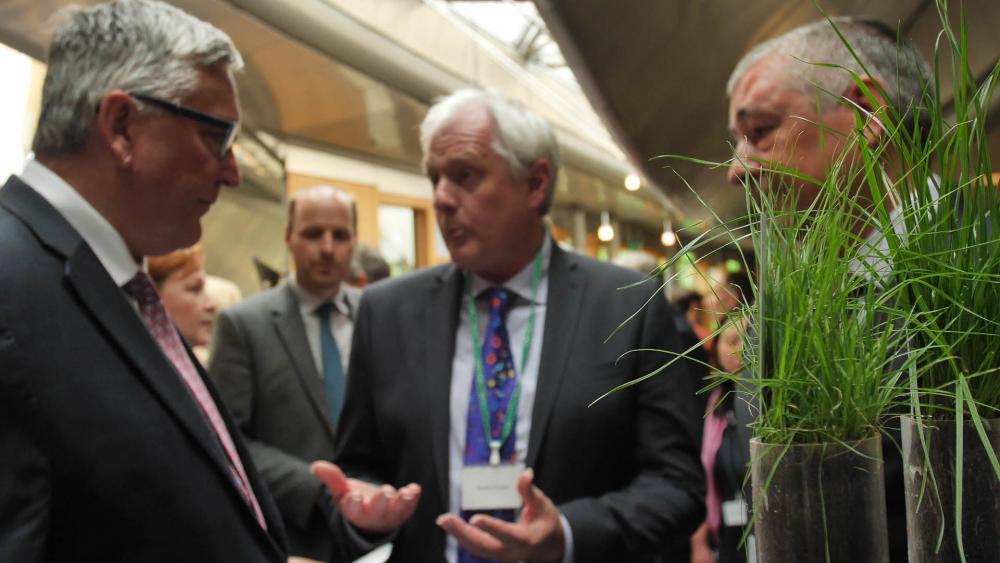 "Our research looks at the benefits of enhancing crop and overall diversity for crop production. This includes planting peas and other legumes alongside cereal crops to help make farming greener, cut greenhouse gas emissions by reducing dependence on fertiliser, and opening up new markets for local food and drinks businesses. For example, a new fava bean ale has been developed which reclaims the waste products from fava beans grown as feed for livestock."

Drs. Rob Brooker and Ali Karley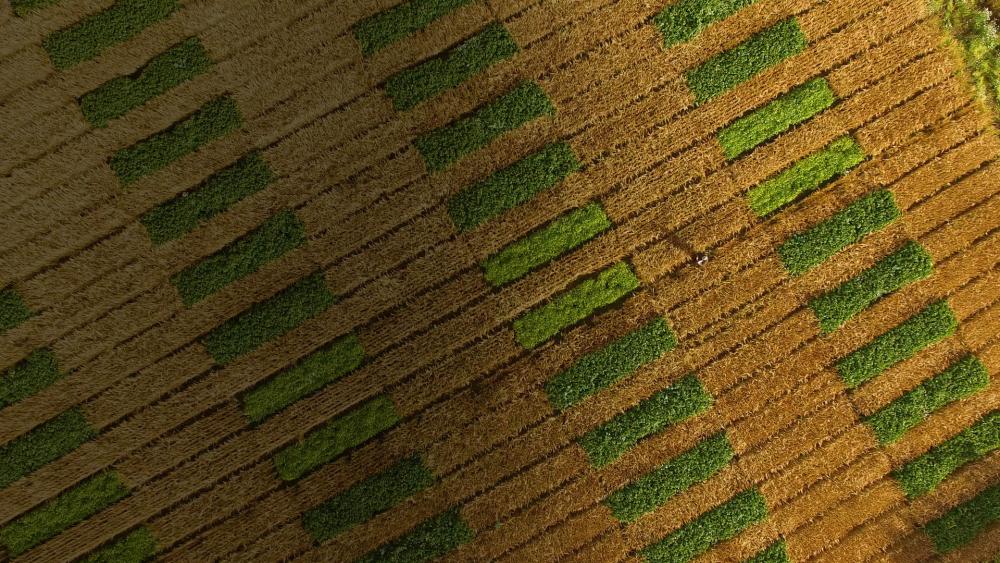 "New technologies make it possible to extract protein from plant material not widely utilised as food or feed for livestock. Potential sources include wild and possibly invasive plant species which grow on marginal lands with less energy-related inputs. We are aiming to develop different foods that contain some of the plant proteins sourced from alternative or underutilised sources. We have also created a new cookbook filled with healthy, plant-protein recipes, including fava apple and apricot muffins."

Drs. Wendy Russell and Madalina Neacsu
"Our work is exploring innovative ways to enhance the health properties of processed foods. This involves developing foods that include materials that currently go to waste but which could be re-valorised in the food supply chain. This includes incorporating freeze-dried vegetables and vegetable waste products into bread and yoghurts to contribute towards one of your five portions of fruits and vegetables a day."

Drs. Viren Ranawana and Vassilios Raikos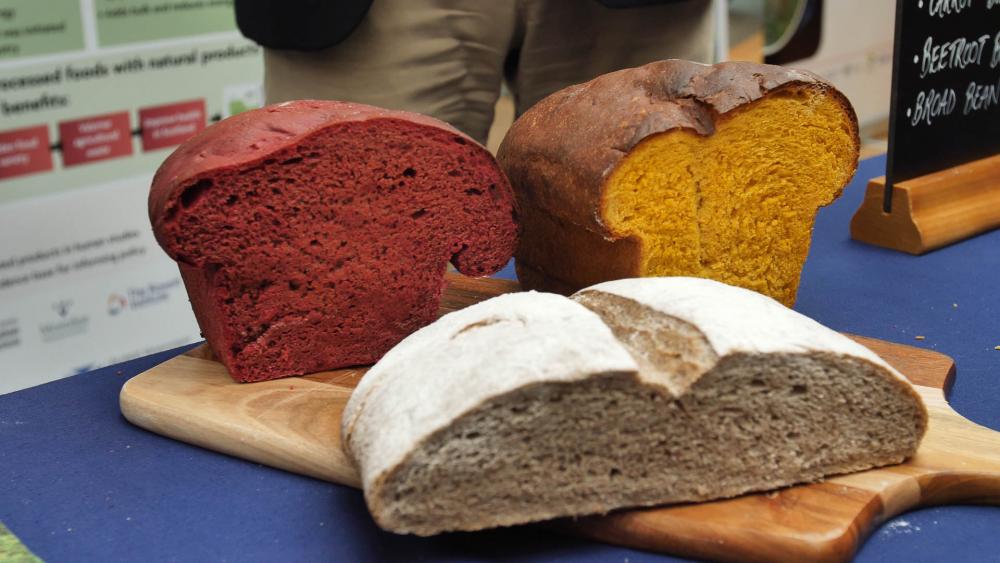 We also premiered a new film called Leading Ideas for Better Lives. This film shows the positive difference our research is making towards wider society and its relevance in helping the achievement of the United Nations Sustainable Development Goals.
The film includes examples particularly relevant to the food and drink sector, incorporating plant and animal health, food security, sustainable diets, and nutrition. A bespoke version of this film will be housed at the John Hope Gateway Centre in the Royal Botanic Garden Edinburgh.
If you would like to find out more about the research and expertise across SEFARI then contact the SEFARI Gateway or follow us on twitter at @SEFARIscot.
By Andrew Kelloe, Research and Communications Officer, SEFARI Gateway