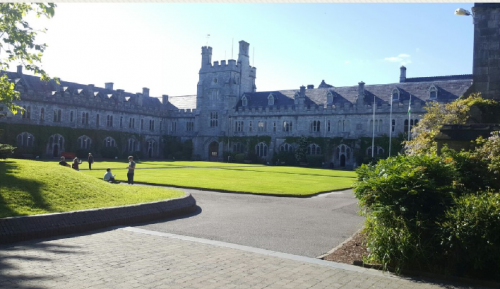 SEFARI has a crucial role in ensuring that the right research and expertise gets to the right people, at the right time and in the right format. This model has to deliver for policy makers, commercial interests and individuals alike – such challenges are shared the world over in the space between research and decision taking. SEFARI also has a role to better internationalise Scottish Government funded research on environment, food, agriculture and land.
While that means developing ways to take our messages beyond Scotland, it also opens up the opportunity for us to learn from others. This week we have a great example of an event which helps in both those challenges. Two key SEFARI staff, Dr Kenneth Loades, and Dr Philip Skuce are heading to Cork, Ireland, for the latest in a series of high-profile events exploring how the transformative power of science and technology can be better aligned to meet societal challenges, and how research can better underpin policymaking.
Dr Loades, the SEFARI Sector Lead for Soils and Crops, and Dr Skuce, the SEFARI Sector Lead for Livestock, are taking our own experiences to the table by using examples of interaction with the Scottish Government and Scottish Parliament. Dr Loades said "This conference gives us a platform to show what Scottish research on environment, food, agriculture and land can offer, but also gives us the chance to learn from others trying to improve how science can better underpin policymaking and scrutiny".
The 3rd European Technology Assessment Conference will explore key issues such as:
Health, ageing and wellbeing;
Food security, sustainable agriculture, marine and maritime research and the bio-economy;
Secure, clean and efficient energy;
Smart, green and integrated transport;
Climate action, resource efficiency and raw materials; Inclusive, innovative and secure societies.
The conference is to be attended by a rich variety of those who carry out research in these areas, those who act as knowledge brokers, and those who require accurate and reliable research and data. This includes parliaments, governments, research institutes, universities and academies from across Europe and beyond. Dr Skuce said "We expect to learn valuable lessons on how others meet the challenges of ensuring policy makers and those with scrutiny roles have the best access to the right information and expertise. We will also learn how others measure the impact of these types of activity – all with a view to putting new ideas into practice at home".
This trip delivers against another agenda too, perhaps one more traditionally aligned to the research areas delivered by SEFARI – the same venue, University College Cork, is also hosting an All Island Agri-Food Summit – this presents the opportunity to take Scotland's message to an Irish audience, and to learn about challenges and opportunities in the Irish context.
Graeme Cook ¦ Director ¦ SEFARI Gateway