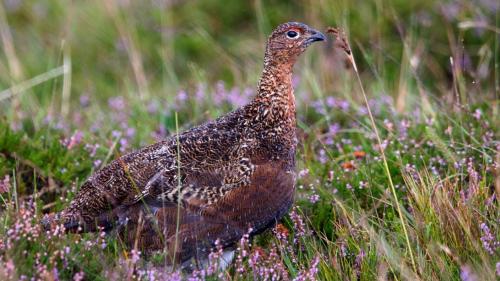 Stage
Work Completed
Directory of Expertise
Purpose
Scotland's Land Use Strategy promotes an integrated approach to land management, with woodland regeneration, biodiversity conservation, carbon sequestration and recreation encouraged in moorland areas alongside traditional sporting activities. Therefore, there is increasing pressure on land managers to deliver multiple benefits from moorlands, including the public benefits that these areas provide.
With respect to grouse shooting, there have been questions raised about the positive and negative impacts on biodiversity and other public benefits. While grouse moor managers and collaborators are taking active steps to reverse the decline of wading birds in Scotland, concerns generally focus on the unregulated killing of mountain hares on grouse moors, muirburn and the persecution of raptors. It is particularly the latter issue that has generated emotive reactions from the general public, conservation organisations and campaigners, and led to increasing pressure on politicians to address the issue.
The aim of this project was to build on the existing research knowledge base regarding grouse moors and to understand in more detail the employment rights, attitudes, motivations and behaviours of gamekeepers. The research focused on providing new evidence on five key objectives relating to grouse moor management, namely:
Examine the extent and impact of economic connections between grouse shooting estates and surrounding businesses and communities.
Evaluate the socioeconomic impacts of alternative land uses for moorland and how they compare against land used for grouse shooting.
Understand the employment rights and benefits available to the gamekeepers involved in grouse shooting, as well as their working conditions, attitudes, behaviours and aspirations for the future.
Provide a more up to date assessment of the area of grouse moors in Scotland under management for driven grouse, mapping clearly the areas of moorland that are actively managed for grouse and the intensity of current management regimes.
Understand further the impacts of driven grouse shooting on biodiversity making use of more up to date estimates of grouse moor management intensity and linking it with the best available biodiversity data.
Results
The key findings from each part of this research are summarized in this section.
Because of the wide-ranging nature of the project, covering multiple issues and questions, it is difficult to briefly summarise the findings of the project. A summary report has been produced that provides the key information from the four detailed thematic reports, in particular the main findings, knowledge gaps and options for future research.
As with all projects of this nature it is important that the limitations and caveats identified in the technical reports are fully considered alongside the findings of this wide-ranging body of research.
Part 1 – Socioeconomic impacts of moorland use
This research analysed 24 moorland use case studies. The case studies were selected systematically to include a range of different land uses, enterprise scales, management intensities and owner motivations. The results provide indicative estimates of the extent of socio-economic impacts arising from driven and walked up grouse shooting alongside those arising from alternative moorland uses – specifically: deer management, sheep grazing, afforestation and woodland creation, renewable energy and conservation management.
Part 2 - Employment Rights of Gamekeepers
This work helps deliver a Programme for Government commitment to undertake "work in relation to protecting gamekeepers' employment and other rights".
The results from our survey of gamekeepers provides unique insights into wage rates, tied housing and employment terms, as well as sentiments and experiences from being a gamekeeper in Scotland.
Part 3 - Mapping the areas and management intensity of moorland actively managed for grouse
This research built on work undertaken in Phase 1 and provides new insights into strip burning on moorland areas associated with grouse shooting.
Alongside updates of the extent of muirburn and its change over time, characterisation of grouse butt density (butts per km2) was also improved through more nuanced demarcation of the area of moorland associated with grouse shooting.
Part 4 - Biodiversity considerations on grouse moors
This work used the outputs from the mapping exercise (specifically strip burning intensity) and overlaid species data.
This allowed researchers to assess the effect of grouse moor management intensity on the distribution of selected upland species where the association between species distribution and grouse moor management is less well understood or unknown (Birch, Green hairstreak butterfly, Curlew, Merlin, Lesser redpoll, Bilberry / blaeberry, Adder, Golden plover, Kestrel, Whinchat).
Benefits
With transparent methodologies our findings offer new evidence to the debate and for policy consideration. The case studies have explored land owner motivations and the spending and revenue impacts of different land uses.
Our work has updated the mapping of grouse shooting intensity in the main shooting areas and this methodology enables greater insights into where strip burning and grouse butt densities are increasing, decreasing or remaining static. Used alongside data on species presence we have demonstrated a new approach to assessing impacts (both positive and negative) of driven grouse moor management, at different intensities, on biodiversity.
The survey of gamekeepers provides unique insights into this profession and has created a profile of the sector, including respondent feedback on things they would like to change about their job – often related to public and political perceptions of land and game management.
Project Partners
SRUC and James Hutton Institute
The stakeholders involved in the Research Advisory Group:
Documents
Related Links