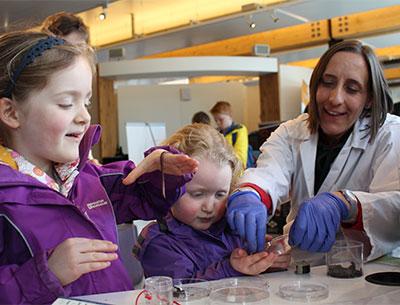 Food is connected with just about every aspect of our lives. With a 'Good Food Nation Bill' on the way in Scotland, SEFARI presents a week of tasty science exploring what we eat and how the nation's diet affects our health and the health of the natural world. Fun, free and engaging drop-in activities, developed by our scientists, will be accompanied by a series of pop-up talks presented at 2pm and 3pm each day.
Sorry, this event has already happened. Have a look at our upcoming events.
Date & Time
7-13 April 2018 - 10:00-16:00
Details
Our scientists are bringing a series of free pop-up presentations and fun, hands-on activities explaining the nature of the food on our plates.

Each day between 2-3pm our scientists will deliver fun talks on a range of topics, such as how important sleep is to keeping cows happy or how to encourage the bugs in our guts that keep us healthy. In addition to our daily talks, we have a range of drop-in activities for the kids, like making and decorating a bee house from bamboo or becoming a disease detective where only you can identify the culprit and stop the disease from striking again.

Download our leaflet for full details on our range of talks and activities.
Location
John Hope Gateway Centre