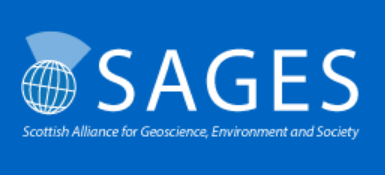 The Scottish Alliance for Geoscience, Environment and Society (SAGES) pools world-leading expertise in geoscience and environmental science from across Scotland's research base, creating an multi-disciplinary alliance at the forefront of earth and environmental research.
Sorry, this event has already happened. Have a look at our upcoming events.
Date & Time
16th - 17th May 2023 -
Details
As in previous years, the conference will include a wide range of presentations, topics, keynote speakers, publication, and poster competitions.
Delegates will be able to present their research, find out about SAGES funding and the benefits of being a SAGES member, enter our competitions for 'Best published paper' and 'Best poster'. It's also a great opportunity to network with other early career researchers and academics from all disciplines in our five science themes.
Our Research Themes and Forums will showcase the breadth of SAGES research. Each day will lead with an invited 'Keynote' cross-sectoral, interdisciplinary presentation.
A Conference dinner will be held on the Tuesday evening.
Full details of the Conference including Eventbrite registration link, abstract submission instructions and how to enter our Best Published paper and poster competitions can all be found on our dedicated ASM 2023 webpage.
Important dates:
Abstract submission deadline: 30 March 2023
Best published paper competition deadline: 28 April 2023
Registration deadline: 30 April 2023