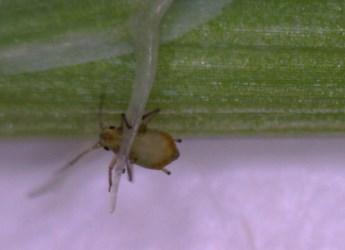 Daniel Leybourne, a PhD student from the James Hutton Institute, will deliver this Entomological Club seminar focussed on several interactions between two related grass species, modern barley (Hordeum vulgare) and a wild relative (Horedum spontaneum 5 - "HsP5"), with their insect pests and immediate environments. The wild species of barley in this system, HsP5, possesses partial-resistance to aphid pests.
Sorry, this event has already happened. Have a look at our upcoming events.
Date & Time
13 February 2018 - 15.30
Details
The first section of this talk will highlight the resistance mechanism(s) which have been identified within HsP5 and discuss the implications of insect resistance on additional trophic levels. The latter half of the talk will discuss how a changing climate effects this system, focusing mainly on the effect of drought and water limitation on the interactions between these two different plant species and their aphid pests.
Location
The James Institute, Invergowrie