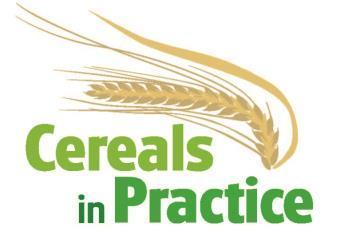 Cereals in Practice is a unique annual showcase of variety trials and research organised by the James Hutton Institute, SRUC (Scotland's Rural College) and the Scottish Society for Crop Research. Aimed at farmers, agronomists, industry and scientists working with cereals, this event brings variety trials and current research together in one place providing a unique opportunity to discover and discuss the latest recommendations and developments in the cereals industry. This a must-attend event for anyone interested in cereal farming and associated industries.
Sorry, this event has already happened. Have a look at our upcoming events.
Date & Time
14:45 - 18:30 - 5 July 2018
Details
Details of field demonstrations and indoor displays etc will be published in due course. Watch this space!
The event is being held at Saphock Farm which is located on the A920 between Oldmeldrum and Meikle Wartle. There will be a few event signs on the A920 - look out for these so you don't miss the turn off to Saphock Farm.
Registration is not currently open, official invites will come out later in the year, but if you would like to register your interest in attending please contact us using the details below.
If you have any queries about the event or to register your interest in attending, please contact Pam Cassidy, Events Co-ordinator, The James Hutton Institute, Invergowrie, Dundee DD2 5DA. Email: events@hutton.ac.uk, Tel: 01382 568 751.
Location
Saphock Farm,