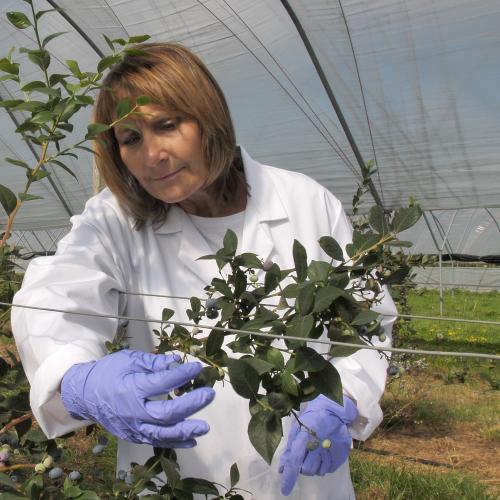 Julie Graham
+44 (0)344 928 5428
James Hutton Institute
Errol Road
Dundee
Scotland
DD2 5DA

Biography
The fruit industry relies on a small number of varieties and a decreasing number of chemicals, presenting serious challenges for future sustainable growth. No suitable high-quality varieties with resistant to pests and diseases are available. This is coupled with climate change where unpredictability in phenotypic expression is resulting at both small and large spatial scales.
The ultimate aim of much of the research, therefore, is to understand the development of phenotype and to facilitate knowledge-based breeding of sustainable high quality resistant soft fruit varieties through the development of tools and training of modern breeders. The identification of links between genotype and phenotype, and the subsequent identification of molecular markers for deployment in a breeding context is essential so that efficiency of selection and ultimately time to cultivar release can be improved and accelerated beyond current timescales.
The research has been possibly through the development of genetic linkage maps in raspberry and blueberry and other fruit crops and mapping QTL to assist in the understanding of complex traits of commercial and environmental importance. In raspberry genome sequences and GbS maps have allowed us to link traits to underlying genes. A range of other genomics tools are being utilised to study changes in gene expression in response to various conditions. The traits of most interest include pest and disease resistance, season and fruit quality traits including flavour, colour and softening.
Documents
Research Papers (DOI)