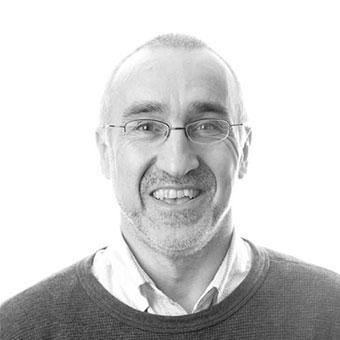 George Russell
+44 (0)131 445 5111
Moredun Research Institute
Pentlands Science Park
Bush Loan
Penicuik
Midlothian EH26 0PZ
Biography
My long term interests focus on the relationship between sequence variation and protein function in relation to livestock disease. I have studied the immune system of livestock species and genetic variation of pathogens for over 20 years and am interested in the molecular interactions between host and pathogen.
I am a Project Leader in Moredun Research Institute's Vaccines Pillar and also part of EPIC, the Scottish Centre of Expertise on animal disease. As part of SEFARI and EPIC, I am involved in areas of research aiming to improve livestock production, efficiency and welfare whilst reducing the use of resources that impact on the wider environment.
My work has three main areas of focus. Firstly, I test the potential of ruminant herpes viruses as tools for vaccine delivery (i.e. viral vector vaccines), particularly for difficult to grow or dangerous pathogens.
Secondly, I am mapping variations in the genotype of Bovine Viral Diarrhoea Virus (BVDV) samples from the Scottish Government's BVDV eradication campaign. This work includes research to improve high throughput genotyping methods -next generation sequencing technologies that are more efficient and less expensive - to advance future disease surveillance and the identification of the sources of disease.
Thirdly, I am using genetic and genomic analysis of immune response genes in sheep to understand whether variation in disease susceptibility or immune response is linked to variation within immune system genes. By targeting the relevant genetic markers that are enriched in more resistant sheep, this work may lead to the development of novel tools to help guide breeding efforts.
Documents
Bovine viral diarrhoea (BVD) is a common and costly disease in beef suckler and dairy herds worldwide. BVD leads to fertility problems in cows, death in persistently infected (PI) animals and predisposes animals of all ages to infection with other agents such as respiratory and enteric pathogens. PI animals play an important role in the transmission of the infection.

Valid diagnostics and effective disease control measures such as vaccination are available. Various European countries aim to eradicate BVD in their livestock. In Scotland, Shetland has successfully eradicated the disease.

The aim of this Scottish Government funded study was to provide BVD prevalence estimates for the Scottish beef sector.

Bovine Viral Diarrhoea (BVD) is an economically important disease of cattle that causes abortion, infertility, and may increase rates of respiratory and gastro-intestinal disorders. The Scottish BVD eradication programme, led by the Scottish cattle industry and supported by Scottish Government, has had significant impact since 2010 - 90% of breeding holdings now have negative BVD status

Established health schemes to control Bovine Viral Diarrhoea (BVD) on Scottish farms and subsequently underpinned the rationale for cost-effective control strategies that have been adopted in health schemes around the UK. The farm-level savings to the industry from future eradication are estimated by Scottish Government to be £50-£80m.
Research Papers (DOI)