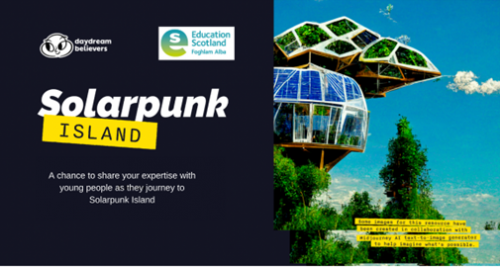 We are well into the summer holidays and you might be dreaming of a desert island getaway. Well, look no further. It's time to pack your bags and join us on Solarpunk Island!
In this blog, Education Scotland (the national body for education) and Daydream Believers (a not-for-profit organisation putting creativity at the heart of education) describe how they are working with over 25 schools to pilot a challenge based learning experience called Solarpunk Island. We are currently looking to organise links with partners and we are delighted that SEFARI Gateway is keen to help us to do this. We hope there will be many of you who can share your expertise with learners and the helpful skills for life on a desert island. Interested? Then please keep reading for more information and how you can get involved…
What?
Solarpunk Island is a project Education Scotland and an organisation called Daydream Believers are currently facilitating for primary and secondary schools all over Scotland.
Image: An aerial view of an island surrounding by blue water. The island is divided up into segments by an overlay. A boat sits on one of the sandy beaches.
Together we create an immersive context for learning that imagines the learners embarking on a boat journey but ending up getting shipwrecked on a desert island. They then have to work out how to survive, create a neighbourhood using the 15 minute concept and thrive as well as placing sustainability at the heart of their decisions. In our overview of the challenge so far see slide 6 'Pick your buddy' as this is where you could come in.
Who?
The project is a pilot exploring challenge based learning within the Broad General Education (we have learners from ages 8- 15 involved). Currently we have over 25 schools signed up from all over Scotland and this is expanding every week! A number of the schools are based in rural/coastal communities including in the North East of Scotland. Many of our teachers are from the disciplines of science, technology, art and music but we also have some humanities, English and primary teachers too so it is truly interdisciplinary. Each school is embracing the creative opportunity and the freedom to do things a wee bit differently but we already know that Science and Expressive Arts are key curricular areas for the experience.
How?
Solarpunk itself is a utopian concept embracing environmentalism and technology together (for example technologies using biomimicry). This is at the core of the project.
Image: A group of hump shaped houses with grass on the roof. The sky is blue and there are paths between the houses.
Learners will work out how to survive on a desert island whilst building a sense of identity. Considering the design of buildings, where they will find and grow food and how they will get safe drinking water are just a few of the challenges presented. Learners will use creative thinking skills and scientific skills and knowledge to solve these. They are allowed to take a 'buddy' – an expert in a particular area (e.g. marine biologist, architect, environmental activist etc.) and that's where we are hoping you can come in…..
Partner involvement:
We are very excited about where the project is going and the possibilities for real-life rich learning this can offer our learners. We are currently looking to bring partners on board to support the project in whatever way they can.
We would love it if you would have capacity to support some sustained engagement with the schools we are working with (this could be a workshop, a chat, demonstrating some of the practical elements you might carry out in your work, providing kit for schools to use and much more). We would also be happy to match you to a school nearby and get a conversation started. It can be a little, a lot, or a one off – as much or as little as you would like or have time for – participate in a way that works for you. Alternatively, if your capacity is limited, we have created a rough template for gathering information about your role and skills. This is a no obligation expression of interest that you could fill in and send back with no further involvement required.
For learners, this kind of partnership, could offer them the opportunity to learn about innovative technologies and through the real-life applications of their ideas, while gaining skills necessary for their future.
Image: A brown suitcase with clothes and accessories, most of which are beige in colour.
While we hope our partners will experience a myriad of benefits, but amongst these could be - raising awareness with young people of the range of jobs in their sector, as well as the skills required for these roles. In addition, we hope that throughout the project, learners will be able to contribute creative and innovative ideas that might support research.
If you would like to find out more, chat about the possibilities or get signed up straight away, please get in touch: