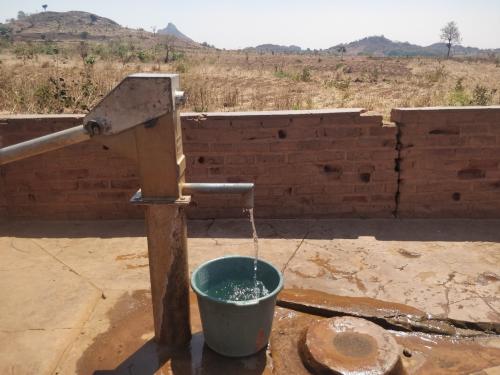 Serious gaming is a growing field in which games are used to provide a fun and educational method of science communication. Gaming offers opportunities in communicating challenging and complex issues to stakeholders and communities to improve land management practices.
Through a SEFARI Gateway funded Innovative Knowledge Exchange project, we are developing a game highlighting the challenges in land and water-management in Malawi. In addition, we are also investigating the opportunities on how we might use what we've learnt to develop a similar game relevant to the challenges more applicable to the Scottish context.
The highly interconnected nature of the many factors influencing land and water management can make communicating management options a challenge. Balance is key, managing economic, health, social, and environmental requirements within the limitations of land and water availability. Furthermore, the "out of sight, out of mind" nature of groundwater can exacerbate challenges in exploring and communicating management options. This challenge was highlighted whilst researching how Malawi can provide its growing population with the sanitary provisions it requires whilst also protecting its groundwater resources and preventing contamination. Such research builds on strong relationships between Malawi and Scotland as part of the Hydro Nations programme funded by the Scottish Government.
To communicate how these boundaries must be juggled we devised an interactive representation of some of the challenges facing land and water management in Malawi; and create a game called 'WellPlaced'. The game enables players to test multiple management strategies in a fun and engaging manner and it is key to ensure that the growing population remains healthy.
Played out on a hexagonal board, the game centres around meeting the requirements of the population centres represented as "villages". Each village requires access to sanitation and water to maintain their health, however, players must have enough finances to pay for such infrastructure. Money is generated through the growing and selling of produce grown on "farm tiles". Throughout the game, players convert tiles to meet requirements and must face environmental hazards such as floods, drought, and contamination. The likelihood of such natural hazards can be exacerbated by the decisions players make, for example, removing "tree tiles" increases the risk of drawing a flooding hazard card.
As well as developing a physical prototype of the game we have been working with partners at the University of Abertay, to also created a digital prototype. Both games can be played collaboratively, with multiple players, prompting discussion of how to balance priorities in land and water management and simulating many of the conversation's, and decisions, that communities will have to make. The game provides a valuable tool for both education and stakeholder engagement. We are working on devising some tests of the game to explore how it communicates the key concepts.
Image: Digital Game Prototype developed alongside students at the University of Abertay.
Developing a game to communicate the challenges within a Malawian context has helped with exploring the concept of also designing a serious game to discuss land and water management in Scotland. The Scottish context will have a much stronger urban focus with challenges in water management such as urban flood management being a core consideration. Factors such as peatland management are also a particularly significant consideration within a Scottish context. As in the case of the Malawi game, it has been an important learning-curve in communicating complex systems in a streamlined format. Funds have enabled us to hold several meetings between interested partners from several SEFARI organisations so we can build on the idea of how a serious educational game might be a useful resource regarding Scottish land and water management. Developing a network of stakeholders involved in land and water management who are keen to communicate these concepts within an interactive format has been particularly enlightening in identifying key areas of land and water interacts that would be most beneficial to communicate. In the future, we are aiming to drive these ideas further forward, so watch this space as we aim to make science communication informative as well as seriously fun!
Rebekah Hinton and Kenneth Loades (James Hutton Institute)