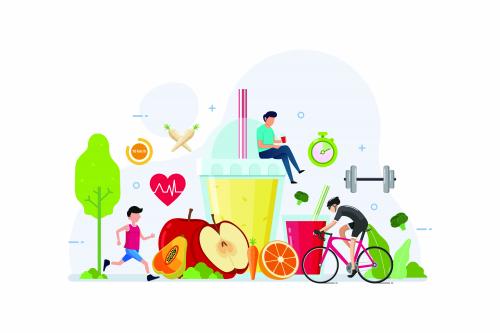 The health behaviour of people living in Scotland, in terms of the types of food bought, the amount of alcohol consumed and the amount of physical activity done, is subject to many influences, and the COVID-19 pandemic may have influenced these behaviours, both in the short and the long term.
In this blog, find out about SEFARI research that is investigating what impact the pandemic might have had on our dietary behaviour and the how this could affect our health and well-being, now and in the future.
It was striking that, early in the pandemic in 2020, there already was recognition that lockdown measures could have an impact upon our health and well-being and we'd need to understand the changes that would arise. Public Health Scotland said:
"Research to track changes in physical activity, diet and weight as COVID-19 control measures ease in the form of high-quality, longitudinal studies within the Scottish population using validated tools would be important to inform the development and targeting of policy in light of the COVID-19 outbreak. It is key that these studies are representative with respect to demographic characteristics."
(Source: https://publichealthscotland.scot/repository/impact-of-covid-19-disease-control-measures-on-physical-activity-dietary-behaviours-and-weight/)
Since those early days, there have now been some studies published that have used data from Scotland, most notably from Food Standards Scotland (FSS) through a consumer tracking survey in 2020. However, there is still limited evidence on the longer-term response from people living in Scotland, and how different parts of the population were affected relative to others. In addition, whilst the effects of the pandemic on mental health are now well-known (e.g., the effect on different genders and ages), the link with health behaviours is not as well established, either in Scotland or other parts of the UK.
To address these evidence gaps, SEFARI researchers at the Health Economics Research Unit, University of Aberdeen, and other researchers at the University of Turin, Italy, are assessing how the COVID-19 pandemic has changed diets in Scotland, and whether there have been marked impacts on health and well-being.
More specifically, using an existing UK wide dataset, namely the UK Household Longitudinal Study, our project aims to:
Quantify the change in dietary behaviour amongst adults in Scotland following the implementation of COVID-19 pandemic lockdown measures.
Understand the size of accompanying changes in mental health and life satisfaction amongst those who reported changes in dietary behaviour.
Estimate the extent of differential impacts between different individuals and households in terms of socio-economic characteristics (e.g., sex, income, education, and employment).
In particular, the following key features of the dataset are being analysed:
A repeated survey of thousands of households in Scotland and the rest of the UK between 2017 and 2019, and then between April 2020 and September 2021
Self-reported food intake with a focus on fruits & vegetables
Self-reported alcohol consumption & physical activity levels
Food insecurity questions
Mental health measured using the General Household Questionnaire (GHQ)-12 – a clinically validated tool to detect psychological distress.
The project is currently in progress and some early novel findings have emerged. For instance, there is evidence of systematic differences in health behaviour between men and women, younger and older people, and people in employment:
Images showing: fruit, vegetables, alcoholic drinks and two people running.
Fruit & vegetable intake: women significantly reduced their consumption in 2020 compared to men, and this decline continued into 2021.
Alcohol consumption: older people (aged 50 years or over) were significantly less likely to report 4 or more days of alcohol consumption in a single week, compared to younger people (aged less than 50 years of age).
Physical activity levels and overall healthy lifestyle (includes higher fruit and vegetable intake, lower alcohol consumption, and higher physical activity levels): people in employment were significantly less physically active, and less likely to engage in an overall healthy lifestyle, compared to people not in employment or retired.
The next steps in the project involve further analysis of the mental health data, and in particular, we are addressing the following questions:
Were people with a pre-existing mental health problem more likely to adopt less healthy behaviours?
Does the uptake of less healthy behaviours affect mental health at a later timepoint?
All our findings are aiming to inform current and future policies that seek to change health behaviour within Scotland and the rest of the UK. In particular, the evidence generated will be shared with policy-makers to help inform and monitor the current Good Food Nation proposals being taken forward by the Scottish Government.
Further information
Please contact the project lead, Professor Paul McNamee
Health Economics Research Unit (HERU), University of Aberdeen. (p.mcnamee@abdn.ac.uk).
Study team
Dr Karen Arulsamy, HERU, University of Aberdeen, Scotland.
Dr Silvia Mendolia, University of Turin, Italy.
Professor Paul McNamee, HERU, University of Aberdeen, Scotland.