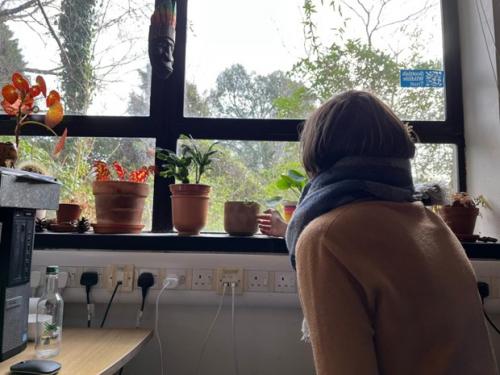 Delivering a sustainable food system is one of the key challenges of our generation and requires ambition to think beyond traditional production models. There is already no doubt we will need to produce our food in a more efficient and environmentally friendly way and my PhD project at the Rowett Institute (University of Aberdeen) is investigating the potential to scale-up production of climate resilient Scottish wild species in three novel agri-systems: forestry, vertical soil-based urban farming and pasture.
My research spans a number of topics, so as part of my PhD experience, and to broaden my understanding, I recently took part in the SEFARI PhD exchange program (funded by SEFARI Gateway) and visited colleagues at the Royal Botanic Garden Edinburgh (RBGE).
The food system, which includes agriculture, land use, storage, transport, packaging, processing, retail and consumption already accounts for 21-37% of total greenhouse gas emissions. Therefore, if we are to meet the Scottish Government's climate target by 2045, relying on conventional agriculture systems is no longer an option and we will need to work together to find alternative solutions. Consequently, as soon as I became aware there was the opportunity for PhD students to visit colleagues across SEFARI and to learn from them, and that RBGE was one of the possible locations, I got extremely excited and expressed my interest in participating. Very quickly, I was then put in contact with Catherine Kidner, the PhD Coordinator at RBGE, who immediately started to plan my visit.
My PhD project is still at an early stage, as I am only in my first year, so the exchange visit was planned as a series of informal meetings with RBGE staff and students who work on similar topics to me. In addition, and to accommodate everybody's needs, the visit was organized in two half-day meetings that took place in person and one online meeting on the 22nd and 23rd Feb '23.
Firstly, I met Meng Lu, a third-year PhD student who is working on UK wild flora (also see: Plant Atlas 2020 – Botanical Society of Britain & Ireland; Ecological Flora of Britain and Ireland; Genetic Flora of the British Isles). We had a very stimulating online chat about my project and the challenges that I am facing in selecting the right plant species. I felt very comfortable talking to Meng, who gave me valuable tips for selecting the best wild species for my research and showed me online databases that can support my decision.
Then I had my first in person meeting with Emma Bush, the Urban Biodiversity Officer, whilst enjoying a cup of tea, scones and a beautiful view of the Royal Botanic Garden! Emma gave me an overview of her extremely ambitious project which works with secondary school students on the resilience of urban green spaces. In particular, we discussed the development of a universally applicable evaluation model. It was really useful to hear how many young people, living in a big city like Edinburgh, can have little awareness of urban green spaces and the wildlife around them. Our discussion made me realise I will need to consider this challenge too when designing my own urban model. Many of the students involved in Emma's project have responded enthusiastically and positively, which is very promising.
During my second and last visit to RBGE, I met Kirsty Wilson, the Herbaceous Supervisor, and we went for a nice walk around the gardens to gain some hands on knowledge and experience.
Kirsty and I enjoying a spectacular Rhododendron blooming in the sunshine!
Kirsty showed me some of the edible native plants present and gave me lots of advice on their habitat, propagation method, etc. I found our chat particularly useful as I do not have a strong botanic background, and really appreciated Kirsty taking time to share her wealth of expertise with me.
Finally, I had the chance to visit the RBGE research centre and meet other PhD students working on a variety of different and fascinating projects - especially if you are a plant lover like me!.
Meeting the other PhD Students
The opportunity to get an overview of projects carried out at RBGE and to discuss my PhD topic with people with different backgrounds, highlighted aspects of my project that I had not considered before and encouraged me to think about my research from a different perspective. I believe that the series of informal meetings was extremely valuable and my visit was very worthwhile. I felt warmly welcomed at RBGE and I am extremely happy with my experience. This isn't only because I gained valuable suggestions and technical advice that will help with my experimental design but also because I made some useful and important contacts - who I hope to visit again very soon!
Chiara Boni, first-year PhD student, Rowett Institute (University of Aberdeen).