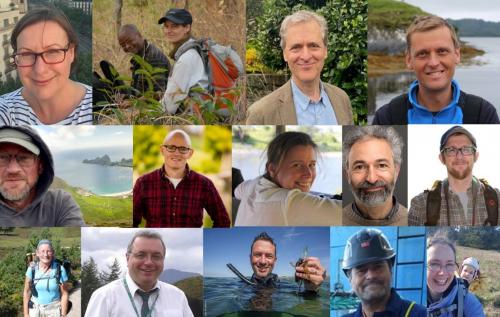 Alexandra Davey introduces a project highlighting the scientists working to combat the biodiversity crisis in Scotland and around the world – from early-career researchers right through to senior scientists. The project gives fascinating insights into their diverse and impactful research, as well as their motivations and inspirations.
Biodiversity has never been under more pressure, with over a million species – around a quarter of the world's mammals, one in seven birds and 40 percent of amphibians and plants – currently threatened with extinction. Land-use change, direct exploitation and climate change are the leading causes of what's been dubbed the 'sixth mass extinction event' in the Earth's history.
This makes the upcoming fifteenth Conference of the Parties to the United Nations Convention on Biodiversity (known more succinctly as COP15) a crucial meeting, at which a new Post-2020 Global Biodiversity Framework must be agreed. With less than month to go until over 10,000 delegates come together for COP15 in Montreal, Canada, a new online series is profiling Scotland's scientists working to protect and restore biodiversity at home and overseas.
A joint project of the Royal Botanic Garden Edinburgh and NatureScot, with an introduction by Professor Mathew Williams, Scotland's Chief Scientific Adviser for Environment, Natural Resources and Agriculture, the series aims to showcase Scotland as a global leader in innovative conservation science, as well as giving aspiring scientists an idea of the huge range of pathways that can lead to a career in biodiversity conservation.
The participants – from early-career researchers right through to senior professors – hail from a wide range of SEFARI institutes including RBGE, the James Hutton Institute and SRUC, universities including Edinburgh, St Andrews, Aberdeen, Stirling and the University of the Highlands and Islands, Government agencies such as Marine Scotland and NatureScot, and NGOs including Project Seagrass, the Royal Zoological Society of Scotland and the Royal Society for the Protection of Birds. Their projects extend from the Atlantic Ocean to Madagascar, from Scotland's rainforests to its mountain peaks, and from deep ocean corals to tropical trees.
Pulling together this series has been a fascinating process, in which I have learned not only about scientists' work, but their wider relationships, aspirations and motivations. I am so grateful to all the scientists who gave up their time to write and/or talk to me about their work. Key features of successful, innovative science leading to impact on practice and policy recurred frequently in our discussions, including interdisciplinary working, co-development with stakeholders and openness to new and unexpected ideas.
Almost all participants agreed that Scotland is a great place to carry out biodiversity and conservation science. Reasons for this included the strong connectivity between institutes, good relationships with stakeholders – from the public to landowners to politicians, and the close proximity of amazing wildlife and beautiful landscapes, wherever in the nation you are based. Who could fail to be inspired by that?
You can read all the profiles at https://stories.rbge.org.uk/archives/category/science/scotland-conservation-science. Do check back in future, as more profiles will continue to be added right up to COP15 (7-19th December) and possibly beyond!
Alexandra Davey, Science Policy and Impact Officer, Royal Botanic Garden Edinburgh