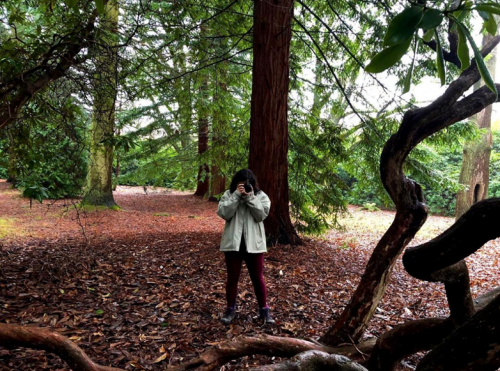 As the recent COP26 Gender Day in Glasgow has highlighted, there is much work to be done in increasing diversity and inclusion in the climate sector. Diverse voices are incredibly important in tackling all aspects of a changing climate, and these voices must be heard and valued. With this and a commitment to achieving a Just Transition to Net Zero in mind, SEFARI have asked me to share my experiences in this blog.
When first starting out in the ecology and conservation space in 2019, I was concerned about a lack of representation of women, people of colour, and members of the LGBTQ+ community. I felt so far removed from the decision makers, and as though there were several barriers to my success in this field. But it turns out that I just wasn't looking in the right places.
One of the biggest misconceptions I harboured when leaving academia for the first time was that the hardest career step was over. I was under the impression that after getting my Bachelor's degree in Biological Sciences, I would be able to find a job in ecology or conservation without too much difficulty. What I didn't consider was that there is a lot of competition for the few paid opportunities in this sector, especially for early career candidates. However, in order to maintain motivation, I needed to remember that this wasn't a reflection on my skills or ability, but the situation itself.
Fresh out of university, I had been led to believe – by family members, a few online forums, and the "ideal candidate" section of some job descriptions – that the best way to obtain a paid role in conservation was to preface it with 6-12 months of volunteer work or prior experience. However, as a recent graduate burdened with thousands of pounds of student debt and on the hunt for a job, this option would make it virtually impossible for me to support myself. How then, could I justify taking on up to a year's worth of unpaid work? Furthermore, some of the volunteer roles abroad even required payment from volunteers, adding another layer of exclusivity which prevents participation for those from humbler backgrounds.
If financial constraints weren't enough, I often faced an additional issue with volunteer opportunities which were based abroad. In some of these countries, my queerness is illegal and advice from others to simply hide that part of myself was incredibly disheartening. I found myself wondering if another career path – one where I wouldn't have to travel, or where queer people of colour had more noticeably established themselves – would be a more realistic goal.
It wasn't until I joined a project specifically aimed at increasing engagement in urban wildlife conservation that I started to feel like I really did belong. As a member of the Keeping It Wild Young People's Forum run by the London Wildlife Trust (LWT), I realised that there were organisations out there who genuinely did appreciate diverse opinions in their decision making. They did such an amazing job in creating an inclusive space where we all felt welcome, and even reimbursed our travel to ensure that we could attend the forum meetings. Attending these meetings, and working alongside other young people from underrepresented groups, reinforced to me that our voices have value and that our contributions are important. I was collaborating with people from different ethnic backgrounds, of different sexual orientations and gender identities, and people with disabilities. Together, we highlighted the obstacles we faced in finding accessible opportunities and suggested ways to make conservation more inclusive. We spoke about the importance of paid opportunities, such as their Traineeship, and connecting young people to decision makers to amplify our voices.
I feel exceptionally privileged in being able to share my story and promote diversity and inclusion. I do so in the hope that other budding conservationists can recognise that their unique perspectives and individual experiences make their contributions especially valuable. The inclusion and recognition of diverse voices is everyone's responsibility, and only by continuing to use our voices to empower each other can we highlight their importance in achieving our collective goals. An example of how we're being heard: in a win for gender equality, COP President Alok Sharma announced that the UK government will be allocating £165 million to advance gender diversity in climate action.
Here at SEFARI, we recognise that we all have a responsibility to be inclusive and promote diversity in climate action. We want to use our platforms to help more voices be heard, and are delighted that Krishna has been willing to share her story.
Just a few examples of how our SEFARI partners and colleagues are getting involved include:
SRUC – Respecting rural diversity
BioSS – Women in Statistics through History
Rowett Institute – Athena SWAN Charter
James Hutton Institute – Stonewall Diversity Champion
For more information about representation in climate action, please click the links below.
COP26: Advancing Gender Equality in Climate Action
Impact of Covid-19 pandemic on women in agriculture
Agrespect - Promoting and supporting diversity in the countryside
Why Climate Change is an LGBTQ+ Issue
Climate change: Why are disabled people so affected by the climate crisis?
By Krishna Sharma, who was recently on work placement with SEFARI Gateway and is pursuing her MSc in Science Communication and Public Engagement MSc at the University of Edinburgh. Also read Krishna's previous blog Showcasing excellence: a celebration of some incredible SEFARI women.
Have your own story you think we could share? Get in touch with us at info@sefari.scot