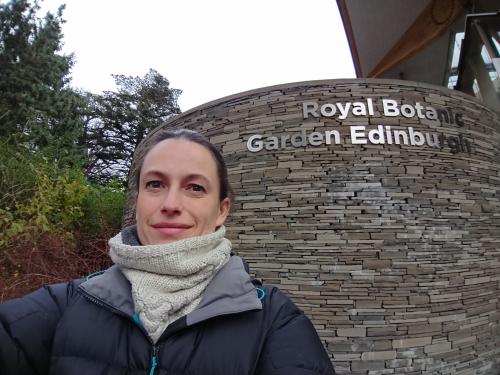 Clearly I'll never cut it in comedy – so what exactly does a science policy and impact officer do and why do SEFARI institutes such as the Royal Botanic Garden Edinburgh (RBGE) need one?
To many people, from the public to politicians, the RBGE is first and foremost a garden. A source of beauty and inspiration about the natural world. But it didn't start out that way and that certainly isn't all it's about today. Hidden away behind the Edinburgh garden is a warren of corridors hiding state-of-the-art laboratories, overflowing research glasshouses, buzzing classrooms, and around three million dried plant specimens, not to mention the all-important social hub that is the canteen. This is the domain of the RBGE's scientists, and I used to be one of them, working on diverse projects around the world including writing field guides to the trees of the Republic of Congo, inferring the past vegetation and climate of southwest China from fossil pollen, and exploring the evolutionary history of pollen morphology across the flowering plants.
In spirit, I am still one of them, but I no longer do any research of my own. There's too much to do telling the story of everyone else's work. Not all scientists are cut out to blow their own trumpets. Yet in today's cut-and-thrust world, that's exactly what we need to do in order to keep the funding coming in and the policymakers aware of the work we're doing and the benefits it's bringing, in Scotland and across the world.
Since I started in the role my main task has been fact-finding: meeting with many of the RBGE's scientists to hear all about their work. This ranges from uncovering the genetic nature of Scotland's wild crab apples, to assessing how rare plants in the Andes are responding to climate change. From helping rural communities in Nepal deal with the issues of invasive non-native species, to engaging the public about the beauty and diversity of our native lichens.
I've been amazed at what I've unearthed. Did you know that our scientists discover a species new to science every single week on average? Did you know that we manage a network of 'safe sites' across the UK where endangered conifers are grown for potential reintroduction to the wild? Did you know we are pioneering the use of so-called 'metabarcoding' – using animal droppings to learn about the ecology of ecosystems across the world, from pandas in China's bamboo forests, to reindeer in the lichen-covered Cairngorms National Park?
Now I've built up a (constantly growing) bank of information about what our scientists are up to, I can start to disseminate that information: from growing our Twitter presence (please follow @RBGE_Science and @adavey_RBGE) to updating our website, to writing briefings for government ministers and building our role as the prominent public face of SEFARI. I'll be producing targeted outputs for different audiences highlighting our key scientific achievements in Scotland and around the world.
I'll also be working with the RBGE Senior Management Team to update our 'Biodiversity Strategy' – the direction our scientific research will take over the next five years and beyond. Our aim is to ensure that our research makes the most of our strengths in terms of people, collections, and global connections, targets the most pressing scientific questions, links in to new national and international funding streams, and is relevant to and engaged with the people of Scotland. Watch this space!
Now is an exciting time for the Botanics. There is increasing interest in Scotland's natural environment, and a growing concern over global climate change – both areas in which botanical research plays a key role. The number of visitors to our gardens is growing, and with it the potential audience for our science. If you'd like to be part of this – through collaborative events or publications – and you think I might be able to help, please don't hesitate to get in touch.
Dr Alex Davey, Science Policy & Impact Officer, Royal Botanic Garden Edinburgh.