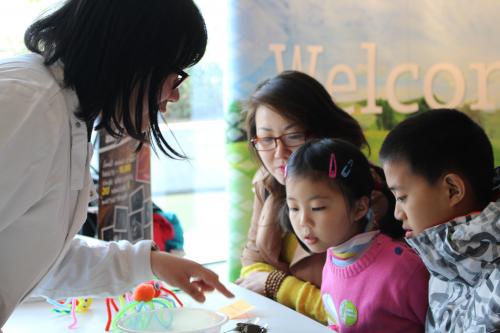 Since our launch event on 29 March 2017 we've been busy delivering against our aspirations for SEFARI research to have a real and positive impact on individual lives – the idea underpinning our strapline of Leading Ideas for Better Lives.
All of the Institutes who make up SEFARI contributed to the Edinburgh International Science Festival through public engagement on food and health research. The programme ran in the John Hope Gateway Building at the Royal Botanic Garden Edinburgh during early April.
Scotland's Rural College kicked off the programme by working with young scientists (and their parents) to explore how the community of critters and microbes that live in healthy soil underpin our food production. The entire SEFARI programme ran for 10 days and around 3,000 people, both young and old, enjoyed the experiences of real live scientists helping them explore issues and think differently about their world. 
The James Hutton Institute explored the science behind barley production, and the trials of life for the plants we call weeds, but are actually an important part of the farmland habitat. Crop plant diversity, and the issues around accessing nutritious food in the future, were explored by the Royal Botanic Garden Edinburgh.
A journey through a giant model gut was the highlight of The Rowett Institute  focus on the importance of gut microbes to our health. A computer interactive developed by BioSS helped people to design healthy, affordable and sustainable diets. The programme was closed by the Moredun Institute giving their 'Disease Detectives' the task of diagnosing animal patients, in the fight to keep farm animals, and us, safe and healthy.
The importance of learning by doing cannot be underestimated, and we hope that those who took part, or observed, took something away to influence their own decision making, or took away material to start a conversation with family, friends or colleagues.
By the way, did you know the Royal Botanic Garden Edinburgh actually has three other gardens in Scotland? They are: Dawyck Botanic Garden near Peebles, Benmore Botanic Garden near Dunoon and Logan Botanic Garden near Stranraer – check them out if you are nearby.
Dr Max Coleman | Science Communicator | Royal Botanic Garden Edinburgh