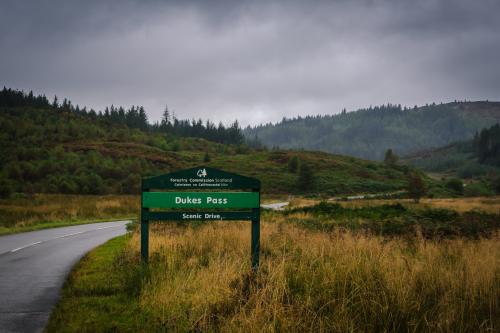 The climate emergency presents a double challenge for public bodies as they reduce their greenhouse gas emissions and learn to adapt to the already changing climate. The Scottish government is committed to delivering a Just Transition to Net Zero by 2045 meaning that public entities must come up with innovative ways to meet these targets. The Loch Lomond and the Trossachs National Park Authority (LLTNPA) covers a largely rural area in the west of Scotland and want to address the 'wicked issues' of rural car dependency and carbon-intensive travel to Loch Lomond and Trossachs National Park (LLTNP). As part of a SEFARI Fellowship, this research explored the evidence for an inclusive and user-led approach that might be developed using participatory policy development approaches. The findings are not exhaustive due to the scope and time of this fellowship but are key in starting a conversation about best practices in stakeholder engagement in the national park.
Stage
Work Completed
Directory of Expertise
Purpose
If Scotland is to meet its commitment to net zero by 2045 then it must address one of its largest greenhouse gas emitting sectors - transportation. Transport accounts for nearly 36% of greenhouse gasses, with 40% of those coming from cars. The transition to a decarbonised travel system throughout Scotland is already underway and is tied closely to ongoing efforts to improve rural accessibility and reduce rural car dependency.
Loch Lomond and the Trossachs National Park (LLTNP) exemplify the importance of environmental protection and climate change mitigation. Unfortunately, car-dependent travel to and within the park has resulted in high emissions, congestion, visitor management pressures and a non-inclusive recreational opportunity. These issues were heightened during the COVID-19 pandemic when "stay-at-home" restrictions began to ease.
When providing sustainable transport alternatives and incentives, it is crucial to engage members of the public in the political decision-making process towards a decarbonized transportation sector. As demonstrated by the Scottish Climate Assembly and countless other examples, participatory methods can help integrate diverse opinions into policies for climate action and enhance transformational change.
The LLTNPA approached SEFARI Gateway and a Fellowship opportunity was developed. Fellowships are bespoke, responsive opportunities aiming to develop a shared understanding between researchers and stakeholders, and to prioritise areas for common effort that can be supported by research knowledge and expertise. Through this research, we aimed to highlight some of the participatory tools available to help inform LLTNP's journey to decarbonising travel to the park and provide a list of recommended approaches and opportunities for further research based on a rapid evidence review and interviews with key park staff. The implications of this work will be relevant across rural Scotland in general, the UK, and perhaps beyond.
Results
Public participation in policymaking is the inclusion of everyday citizens in matters of societal governance and the practice comes in different forms. There are varying levels of participatory involvement moving from methods which simply inform the public of previously decided policy changes (lower on the ladder) to those which give citizens more control and aim to support existing community initiatives (higher up the ladder) (see Figure 1). The methods we explored may be placed at various points along the ladders although the goal is to move further up the ladder as possible.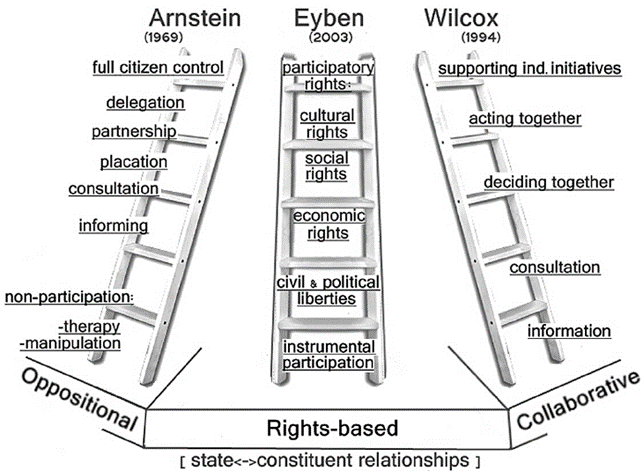 Figure 1: Three models of participation (Arnstein, 1969; Eyben, 2003; Wilcox, 1994) summarised using the common visual metaphor of the ladder. The figure and caption are taken from Aylett (2010).
We completed a rapid evidence assessment of pertinent research and good practices in public engagement strategies for policy development. We also interviewed key staff from LLTNPA to gain an understanding of which methods were currently most used in the park, what is needed to improve stakeholder engagement and what park staff see as the purpose of stakeholder engagement for LLTNPA.
Through the rapid evidence assessment, we found that a multi-methods approach incorporating different levels and modes of stakeholder engagement is most effective in creating robust policies. Bottom-up approaches to problem solving from grassroots organisations and citizens should be met with top-down support from larger institutions and the government. And undertaking a stakeholder analysis before engagement is essential for understanding the stakeholder values, power dynamics, and in preventing/managing potential conflicts.
From the interviews, we found that building relationships with stakeholders are considered key. It is especially important to ensure diverse voices are sought out and provided with an appropriate platform to engage, and that these engagement strategies should be purposeful and tailored to the desired outcomes of the project and needs of the stakeholders. While stakeholder mapping can be used to uncover wider views, it is important to understand stakeholders as individuals with unique values and goals.
The results, and full report, demonstrate that stakeholder engagement is a critical aspect of policy and planning in national parks and can also be used to encourage positive behaviours, create transformational societal change, and connect with wider regional and national goals.
Benefits
There is potential for national parks to implement deliberative processes which can act to both tackle the issue at hand while creating an opportunity for deeper learning and cultural shift amongst stakeholders. Furthermore, it is crucial to understand the unique values and interests of all stakeholders and the complex relationships between them. Combining different approaches can foster collective learning and lead to more inclusive and robust policy solutions to both immediate and larger scale issues.
National parks may want to develop an internal ethos and protocol around best practices in stakeholder engagement informed by both the findings in the literature and the rich experiences of park staff. A strategic framework could be developed to help guide when stakeholder engagement is most pertinent and outline the most effective methods for engaging stakeholders on a variety of strategic planning issues. Approaches should cater to the place-based needs, values and interests of a diverse range stakeholders and be sensitive to the power-dynamics that exist between entities.
Our research has wider implications to inform rural development, accessibility policies, and just transition to net zero in the UK. Issues such as sustainable transport become ever more important when considering the concurrent goals of rural development and accessibility. Deliberative processes can be used to ensure policies fit the needs of the citizens they serve.
Project Partners
Sarah Govan, ClimateXChange
Jo Wright, Loch Lomond and Trossachs National Park Authority
SRUC's Rural Policy Centre
Documents
Research Papers