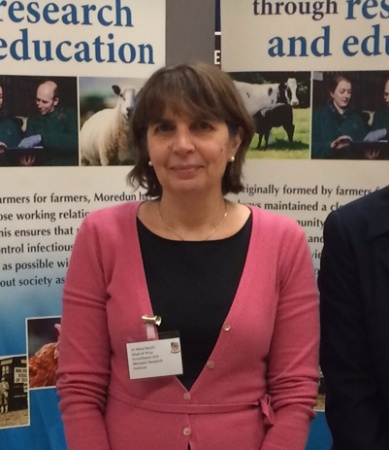 Mara Rocchi
+44 (0)131 445 5111
Pentlands Science Park
Bush Loan
Penicuik
Midlothian
EH26 0PZ
Biography
I graduated from the University of Milan in 1990 (Veterinary Medicine and Surgery) then obtained a PhD investigating the pathogenesis of experimental scrapie in 1994. I joined Moredun in 2000, after 4 years at the International Livestock Research Institute of Nairobi, Kenya, working on the immune responses to ruminant tropical protozoan diseases. From 2000 to 2014 I worked on a number of immunological projects, including analysing disease, vaccine and pregnancy related humoral and cellular responses.
Since 2014 I have been heading the Virus Surveillance Unit, which performs and develops diagnostic test in support of the Scottish Government Veterinary Surveillance Scheme.

ORCID ID: orcid.org/0000-0003-0276-8040
Professional Specialism / PhD Topic
PhD in TSEs pathogenesis; strong interest in host immunological responses to intracellular pathogens with a focus on diagnostic assays. Major interest in syndromic diagnostics.
Member of the Royal College of Veterinary Surgeons, Flow Cytometry Manager and Member of the British Society for Immunology, Biological Safety Advisor and Biosafety Professional Level 1, LIMS Administrator, Home office (ASPA) licence holder.
Previous Research Projects
First detection of a new variant of a rabbit lagovirus in Scotland
Diagnosis of tick borne disease in Scottish livestock, wildlife and ticks
Development of a multiplex molecular test for Bovine Respiratory Disease Complex
Aetiological studies and establishment of a calf bone marrow stem cell culture system for the study of Bovine Neonatal Pancytopaenia
Analysis of TLR expression by ovine T cells.
Definition of the protective activity of a fraction of Chlamydophila abortus